Privacy Policy
Comments
As of March 23, 2019 I have abandoned Disqus because of privacy concerns and this website now has a completely in-house commenting solution based on posativ's isso (GitHub). Here are some things that users leaving comments on my website should be aware of:
The user is given the option of leaving record(s) of either their email address or website as well as their name when leaving a comment;
My website is collecting IP addresses of commenters, which are stored securely on my server. That log of IP addresses is not shared with any third parties. I reserve the right to hold onto the IP addresses, names (and volontarily shared email addresses) of commenters for whatever amount of time I deem necessary in case I need to share that information in the event of threats against my or my family's life.
In case of backup loss or some other technical error, the contents of comments could become lost forever. Commenters are encouraged to conserve copies of any long-form comments they leave on this site and might want to refer back to later.
Analytics
I removed Google Analytics from my website on March 23, 2019. As of April 20, 2019, I use an open-source tracking software installed on my website called Fathom (see the source on Github), a simpler and more privacy-focused alternative to Google Analytics that allows me to track my most popular pages and page views, without collecting personally identifiable information such as IP address, device configuration, geo-location data. Fathom will not collect any information from browsers enabled with the "Do Not Track" Signals under the California Online Protection Act (CalOPPA). And, because Fathom is self-hosted on my own server, the data I gather with Fathom on my website's visitors remains on that server and is not shared with third-parties.
The Electronic Frontier Foundation also has a Chrome and Firefox add-on I recommend you use to protect your privacy online.
To read more about all of this you can check out my March 23, 2019 blog post: I Removed Disqus and Google Analytics.
---
Comments Policy
As the author and creator of this blog I want to make it perfectly clear that I have full discretion to approve or disapprove any comment left on my blog. That is, in essence, my comments policy, and it applies to everything that appears on this website.
Here is a non-exhaustive list of examples of comments I find unacceptable on my website:
spam and inappropriate propositions;
death threats;
rape threats;
comments that tell me to harm or kill myself;
comments that are transphobic, ableist, homophobic, racist, sexist, colonial, fascist, anti-semitic, or oppressive towards myself or any other person or group;
and tone policing.
I will always attempt to give space to well-reasoned, thoughtful disagreements made in good-faith.
If you like xkcd, here is another version of my comments policy: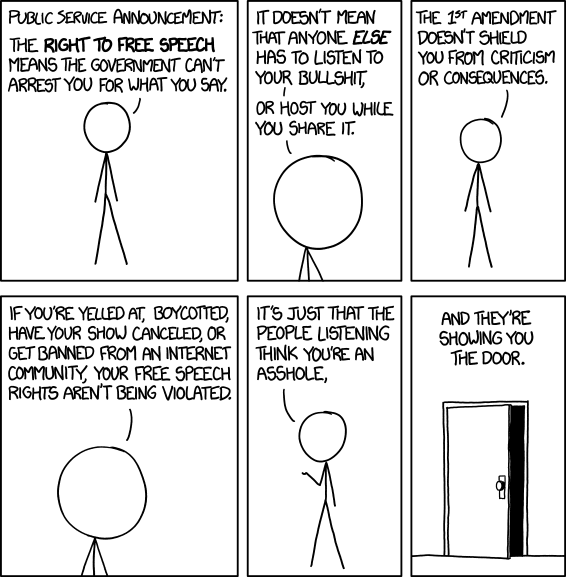 Source: xkcd comic 1357