Vignette of a January women's rally in Montréal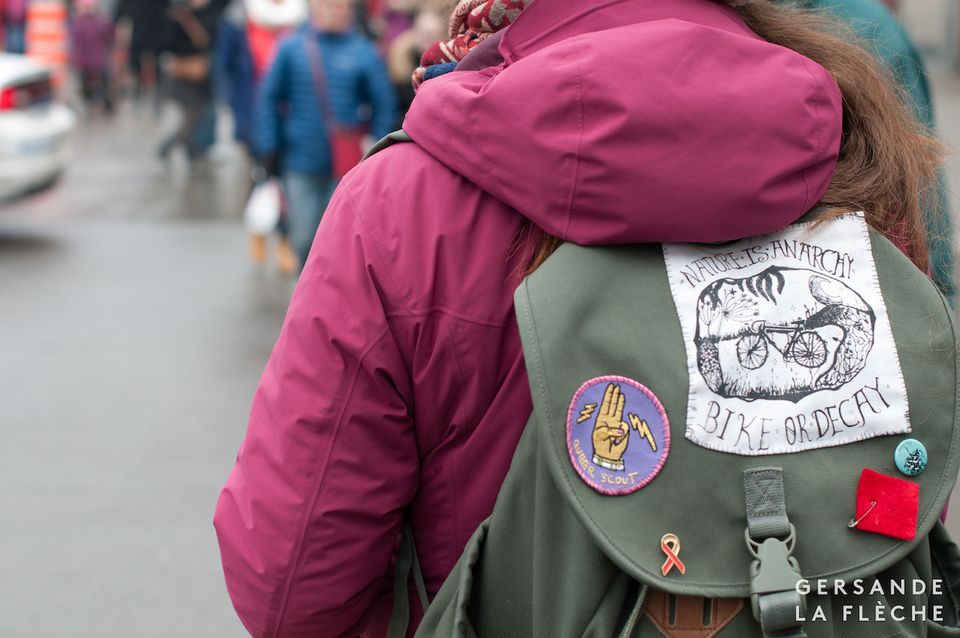 "Debout, debout!" comes the static-filled call from the raging granny on her microphone, somewhere far into the crowd. Another microphone, this time pushed into the face of my partner, the only visible man in our small group. The reporter introduces the radio station she works for, asking for a soundbite explaining his reasons for showing up to a 'women's event.' My mother, her face like a stone statue, interrupts the reporter and speaks: "I am angry. I am afraid."
We're not marching, but I wish we would. Place-des-Arts is beautiful in that cold modern way—steel, cement, and glass which fits the gray light of January—but with the five thousand people assembled here it is hard to hear the speakers on their stage, especially while nearby construction workers use their jackhammers to break up the cold cement of the terrace right outside the Hyatt Regency.
I think of hotel magnates and tourism which are just one facet of the inexorable cogs of gentrification. I think of the unrest in Saint Henri. I think of the lack of overt police presence here this Saturday morning—very different from the earlier Friday night protest, where forty riot police officers attacked a few dozen young protesters on the street. But here there are baby-boomers and paragons of respectability present: labour union representatives, party members of Quebec Solidaire and the NDP, respectable and famous journalists such as Sue Montgomery speaking to the crowd. There are parents with their babies here, standing in the cold for four hours. The police won't attack this crowd, and besides, the police and Montréal's municipal leaders don't feel threatened by this gathering. Here in Québec, the fantasm of fascism and Trump seem like far-away concerns, nebulous, outside ourselves. We are protected by the 45th parallel and by that esprit insoumis québecois that absolves us of all settler supremacist culpability.
My friends and I hold a small eulogy for the anarchist venues and other gathering places that have vanished from Montréal thanks to gentrification. We talk about the community spaces that have been shut down, the places that were burned down or condemned, targeted by the city and its police. I share my experiences of watching how over the past ten years lesbian, queer, sex-worker, transgender, radical, revolutionary spaces one after the other have died out like canaries—but this coal mine is just this late-stage zombie capitalism, and the toxic vapours are just liberal progress.
But there's hope here too. The communist party came out to pass flyers. Trans-inclusive signs can be spotted. I see a sign calling for the abolishment of borders which states that nobody is illegal. A little boy holds a sign saying: "Water Is Life." I see Black Lives Matter pins and poster-boards. My personal favourites: "Hey Justin, stop kissing Trump's ass" and "Vivement le socialisme!" One of the speakers mentions that we are not protected by American-style imperialism, racism, sexism, and colonialism here in Canada. We have many of the exact same problems here, too. We listen to Mohawk and Cree speakers, drummers and artists who speak of the Murdered and Missing Indigenous Women and remind us that we are on stolen, un-ceded indigenous land—Tiohtià:ke. And when several of my friends notice a lone Trump supporter on the margins of the crowd who has attracted the attention of several media outlets, we casually move closer to him and quietly obstruct his fascist poster with our own signs.
This is not the first day of our resistance. The work began long ago, a legacy started by those who knew they might not live to see its results. I hope you'll join us.
Further Reading