My favourite teas and tisanes for iced tea of summer 2020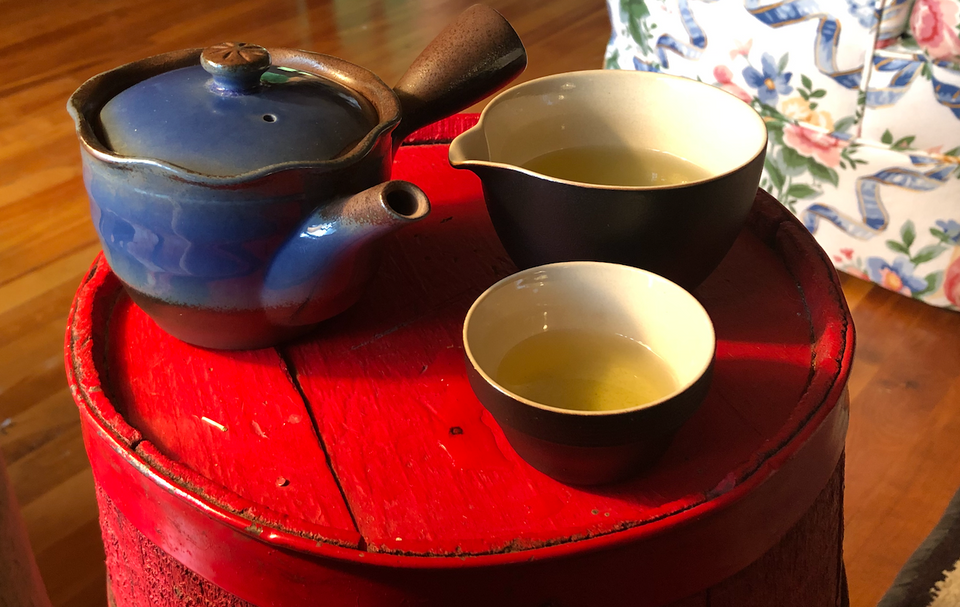 Lately, I have been searching for fragrant and uplifting teas that aren't bitter and which work particular well-brewed cold. This summer has been hot and mildly unmanageable, especially as we don't have functional AC in our over-a-century-old third floor row house apartment, not to mention going out in our neighbourhood can be pretty fraught in these quarantimes.
As such, I've been exploring floral or toasty oolongs, sencha, and especially tisanes (herbal teas). Since I sadly can't drink caffeinated drinks all day long, I have enjoyed finding cheerful tisanes that don't need a ton of sugar or honey to be delicious on ice — but of course, all of these can be sweetened to your desire!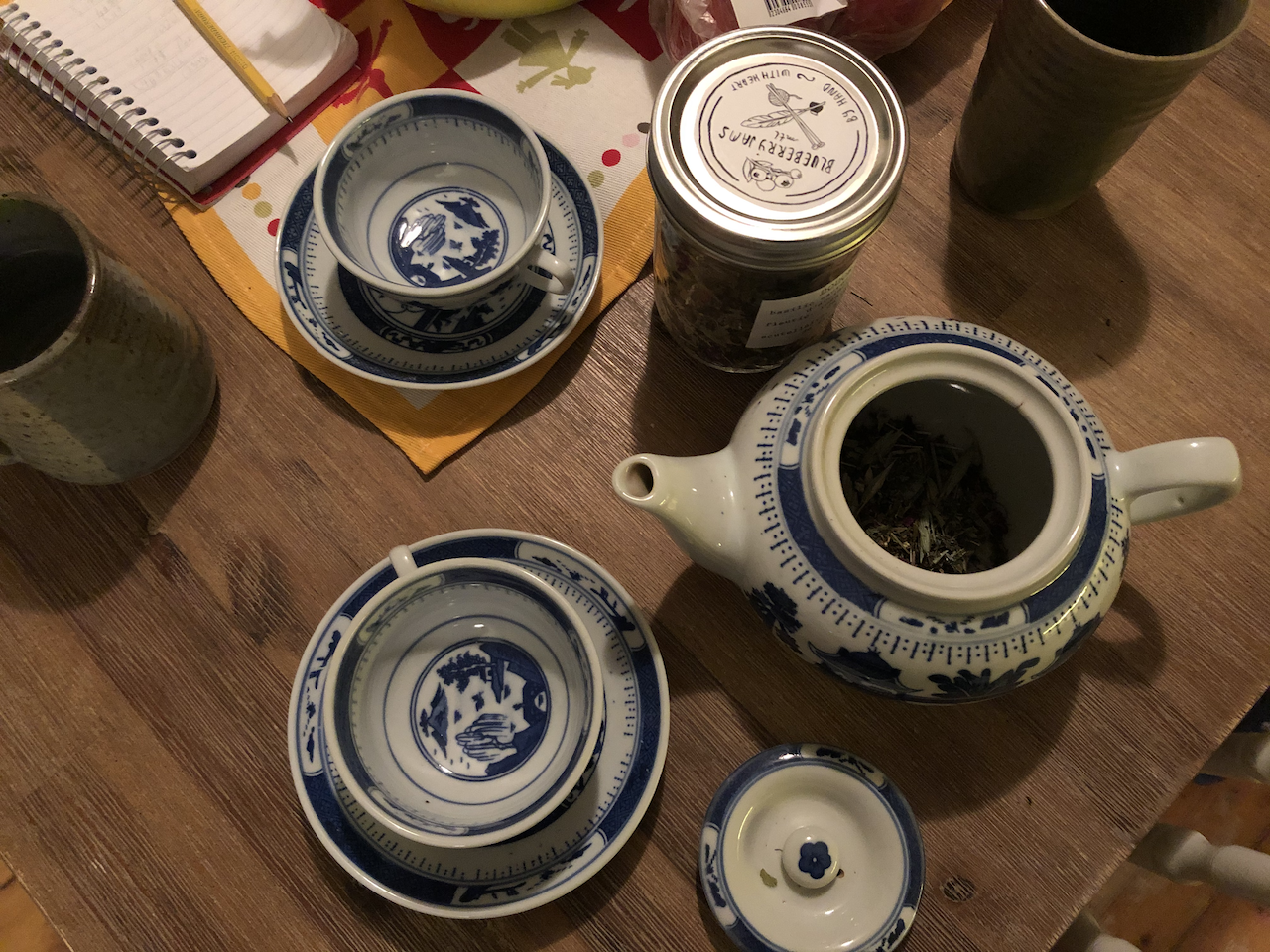 Tender Tulsi (tisane, Blueberry Jams)
This blend, put together by a friend of mine who runs Blueberry Jams MTL*, was without a doubt my favourite concoction this summer. The ingredients, tulsi, oatstraw, milky oats, rose, alfalfa, skullcap, raspberry leaf, create an infusion which smells like a sun-soaked field in late August. This is definitely an infusion that works well hot or cold (though a colder brew necessitates a longer brewing).
Beyond its delicious smell and taste, the brew is effective at helping to release tension and stress. Tulsi in particular is traditionally thought to have effective anti-inflammatory properties. I drink it chiefly in the evening to help wind down after stressful days (as the tulsi, rose and skullcap are all effective anxiety relievers) or even after meals to help with digestion (which the alfalfa, raspberry leaf and oats do help with). Unlike a lot of herbalism-oriented tisanes, which can skew bitter or overwhelming, this infusion's creator took care with the proportions of herbs and flowers, and the uplifting floral result speaks for itself.
Mochizuki Sakura Kaori Asamushi (sencha, Cha Do Raku)
This wonderfully aromatic sencha from Tawaramine, Japan, was found through my local salon de thé Cha Do Raku here in Montréal. Floral but not sweet, this sencha is pretty subtle and uplifting: perfect for when you need to wake up your spirit on weary mornings.
This is also a tea that works particularly well-brewed directly upon ice cubes. This technique, taught to me at Cha Do Raku, is pretty simple: take a small 200 mL tea pot or vessel, place a few ice cubes inside, and add some tea. On a very hot afternoon, the ice cubes melt steadily and the resulting ice tea is immensely satisfying — and sweet!
Karigane 2019 (kukicha, Cha Do Raku)
My first kukicha! This is another find from salon Cha Do Raku and comes from Shizuoka in Japan. In my tea log, instead of writing my usual more detailed impressions, all I wrote were the following two words: "Simply Excellent"— and it really is.
If I understand correctly, kukicha tea is a blend of several parts of the tea plant, including the stems. This Karigane is very herbal, almost hay-like. I like it best brewed quickly (between 1 and 5 seconds) with water around 85 degrees centigrade to tease out the umami notes. To make it cold, I brew it the same way I would brew the sencha above. I like it best in the mornings, or in the early afternoon whenever I feel like I really need a (gentle) kick in the rear to get going.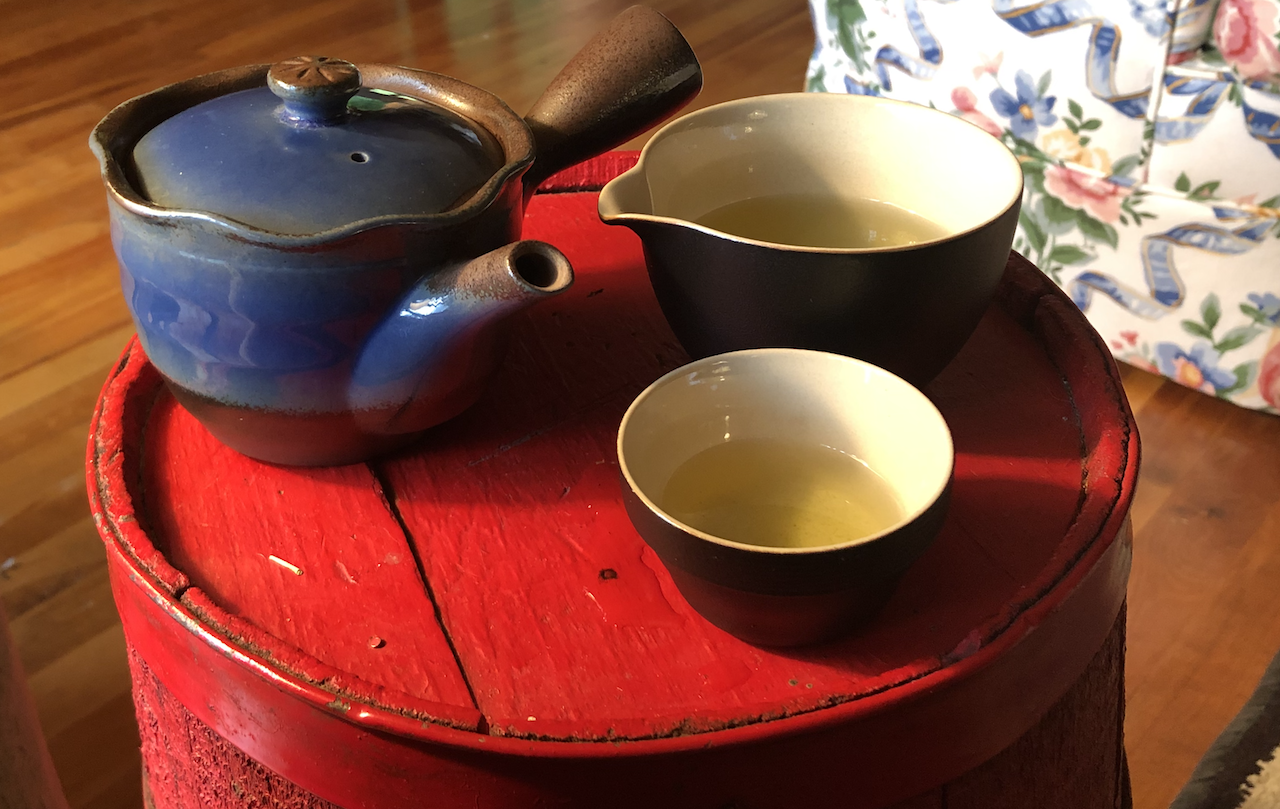 Earl Grey de Marie-Antoinette biologique (perfumed black tea blend, Camellia Sinensis)
This jasmine and black tea blend, perfumed with bergamot and mixed with whole rose petals, is a bit of a departure from the teas I am typically drawn towards. The more tea I drink, the more I realise that I do tend to prefer black and green teas with almost no flavouring.
This tea, however, in all its flavourful glory, is absolutely delicious, and makes an absolutely dreamy iced tea. To prepare a pitcher of this delicious rose tea, here is what I do: I brew it hot in a regular teapot for five to seven minutes, and then strain it into a pitcher that I stick in the fridge over night or for a minimum of 4 hours (or until chilled). The jasmine-rose taste is heavenly hot or cold. You could certainly add sugar or honey if you wanted to bring out the rose sweetness even more, but it doesn't need much. This tea is a smash hit for me.
La bergère (tisane, Camellia Sinensis)
Sweet, herbaceous and floral, La bergère is a blend of milky oats, catnip, lavender and mauve that seems to me like its perfume was constructed around supporting that very distinctive and often tricky lavender flower, to great effect. If you like lavender, this is definitely a tisane to check out. And if you don't like lavender because you've often found it overwhelming, this might be a recipe to try — La bergère might surprise you with its softness!
So these are my favourite five teas and tisanes of the last few months. I hope you enjoyed reading about them! What's been in your cup lately? And do you have a favourite method for brewing iced tea? Tell me about it in the comments!
* I just want to note here a small disclaimer that while I have done some translation work for Blueberry Jams in the past, this is not a sponsored review of any kind. I just really love tea.