Eat Long, and Prosper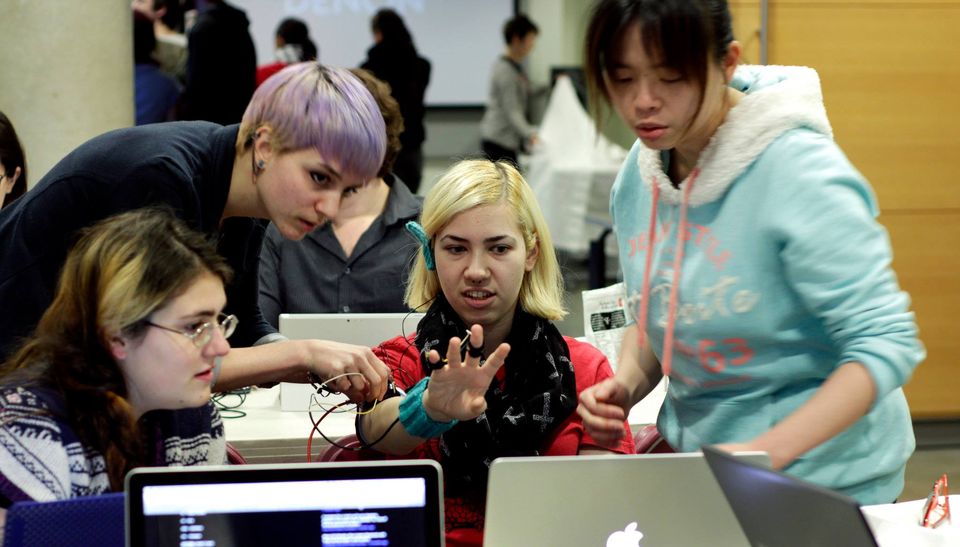 Spock is definitely one of my best friends. When I put on those ears, it's not like just another day. When I become Spock, that day becomes something special. - Leonard Nimoy (1931-2015)
The challenge: in less than 48 hours, construct a videogame or "alternative/augmented reality" game combining wearable tech hacks, technology of any kind, and traditional or modern game mechanics. With a myriad of options ahead of us, Jessica Blanchet and I knew Friday night what we wanted to do. We wanted a game to honour Leonard Nimoy. My first thought was to make Vulcan ears - perhaps out of a mold, or even with Jessica's power of crochet? Jessica immediately thought of using the body as a circuit, and using Spock's classic Vulcan salute as a mechanic. And thus a controller mechanic was born in the minutes before the jam even properly started on Saturday morning!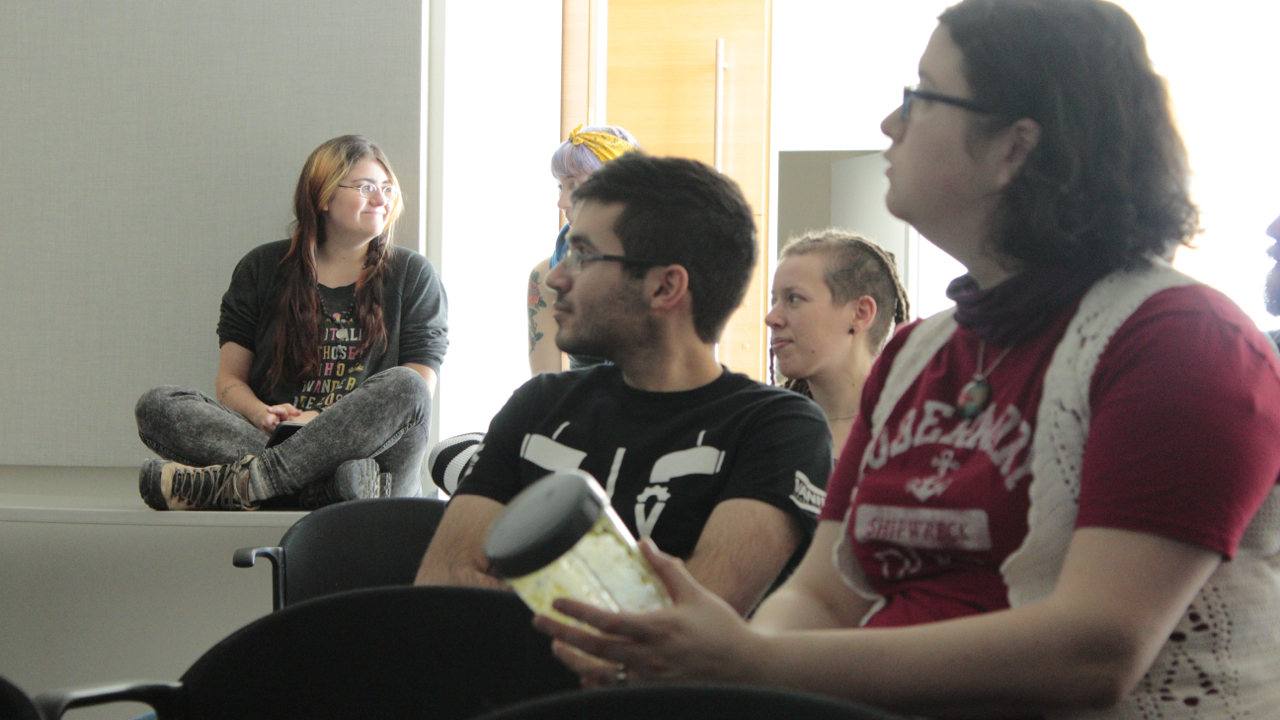 During the meet n' greet portion of the jam Saturday, during the game jam presentation and workshop lead by Gina, Ida and Jason, we decided to see if anybody liked our idea and wanted to join "Team Spock" - Milin Li immediately piped up that she knew Processing and wanted to help. At this point we weren't sure if we were going to be doing a "videogame" AR game, but Processing and Makey Makeys play together really nicely, giving us a framework to work with for the 48 hours.
It was then, right after I managed to get my Earl Grey and the three of us settled at a table, that none other than Marysa Atonakakis approached "Team Spock" and asked us if we could use a 2D artist. Not really knowing if we could use a 2D artist or not, we decided Marysa should sit down with us anyways, and we would find a way to make our "Spock" themed game work with a screen. Thus, "Team Spock" was four!
Sometimes, it's working within the constraints thrown by coincidence that really give a project its edge. We suddenly had the means to make a really gorgeous UI/interface with a screen, as well as using fabric and wires to create a circuit and use a makey makey to respond to the player's hand gestures. The rest of our task was to create a game to fit these "constraints". I thought perhaps of Spock's Memory Test - when Spock tests his mind by performing complex tasks through a screen interfaced to a testing computer.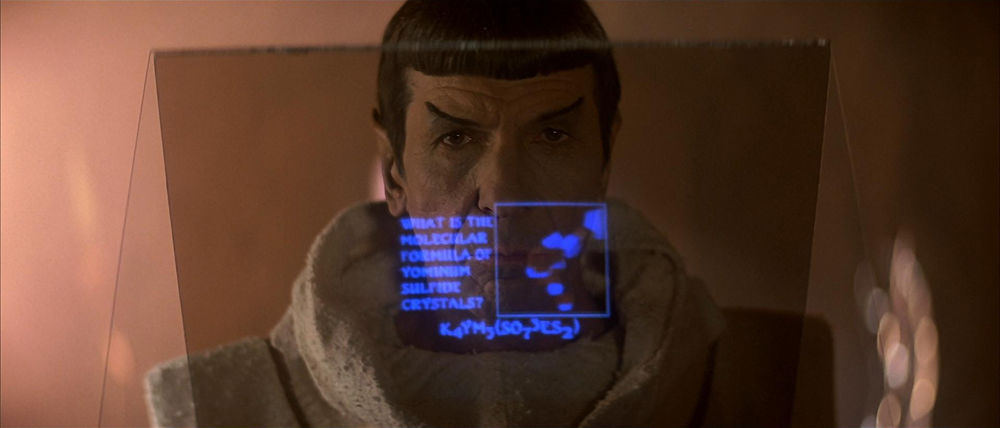 Maybe the game could be a test of Spock Star Trek trivia? Jessica and Milin noted that they would do really poorly at such a game - the game would be too alienating to anyone who isn't a hardcore Trekkie. But a game where the player answers a true or false question with the Vulcan salute did give us further ideas. Jessica was wondering, instead of trivia about Spock, what if we did something where Spock was in the modern day at the grocery store? What would it be like to go grocery shopping with spock?
We talked about the replicator at that point - and got the idea of creating a round-up of food items that the player "role playing" Spock could chose. Spock, as a half Vulcan in good shape, is a vegetarian - it is only logical to assume that a healthy, veggie diet is what he prefers. But of course, Spock is half human. He must have some guilty pleasures!
What I really like about this back and forth is that, despite the time crunch, there is a lot of breathing room to explore creative choices and propose ideas. I started looking up known facts about the Vulcan diet to start designing levels. Marysa started looking up the sets and computer designs of the Star Trek Series. Milin immediately started working on getting Makey Makey and Processing - Jessica was already crochet-ing our first Vulcan ear "mitt".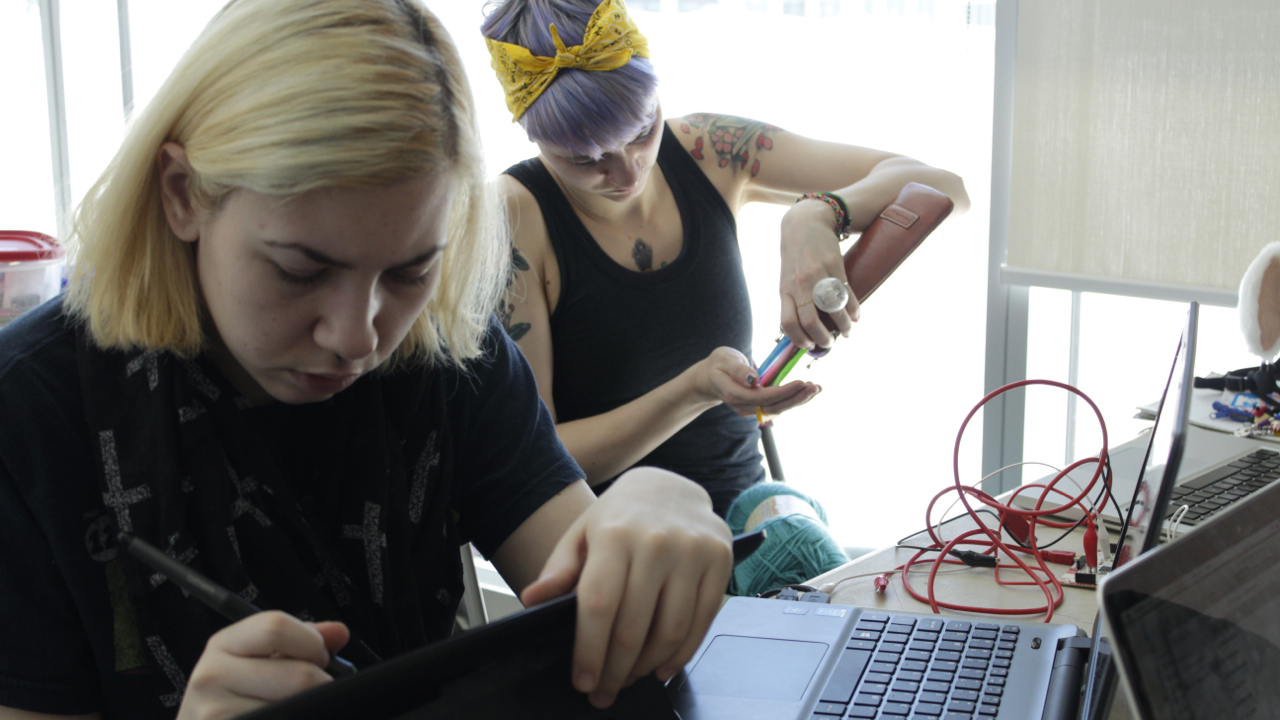 Milin currently doing processing programming for our @CriticalHitMTL jam game: Eat Long and Prosper pic.twitter.com/csO0fvQK8g

— Gersande La Flèche (@gersandelf) February 28, 2015
Piece by piece, and with lots of reductions in scope (10 levels becoming 1 level, for instance!), Eat Long and Prosper was assembled with a lot of joy and cheering! That sounds super cheesy, but it's true. There were some definite stumbling blocks getting the Processing to behave at times, and we had a big block with the Vulcan Ear and Hand Salute controller late Saturday that sent us for a wild loop, but it really was a very awe-inspiring weekend.
Also, Marysa's UI is a really awesome combination of Star Trek chic, Retro Sci Fi Goodness, and even her own uniquely painterly style. Really amazing graphics were made of the game that just blew me away!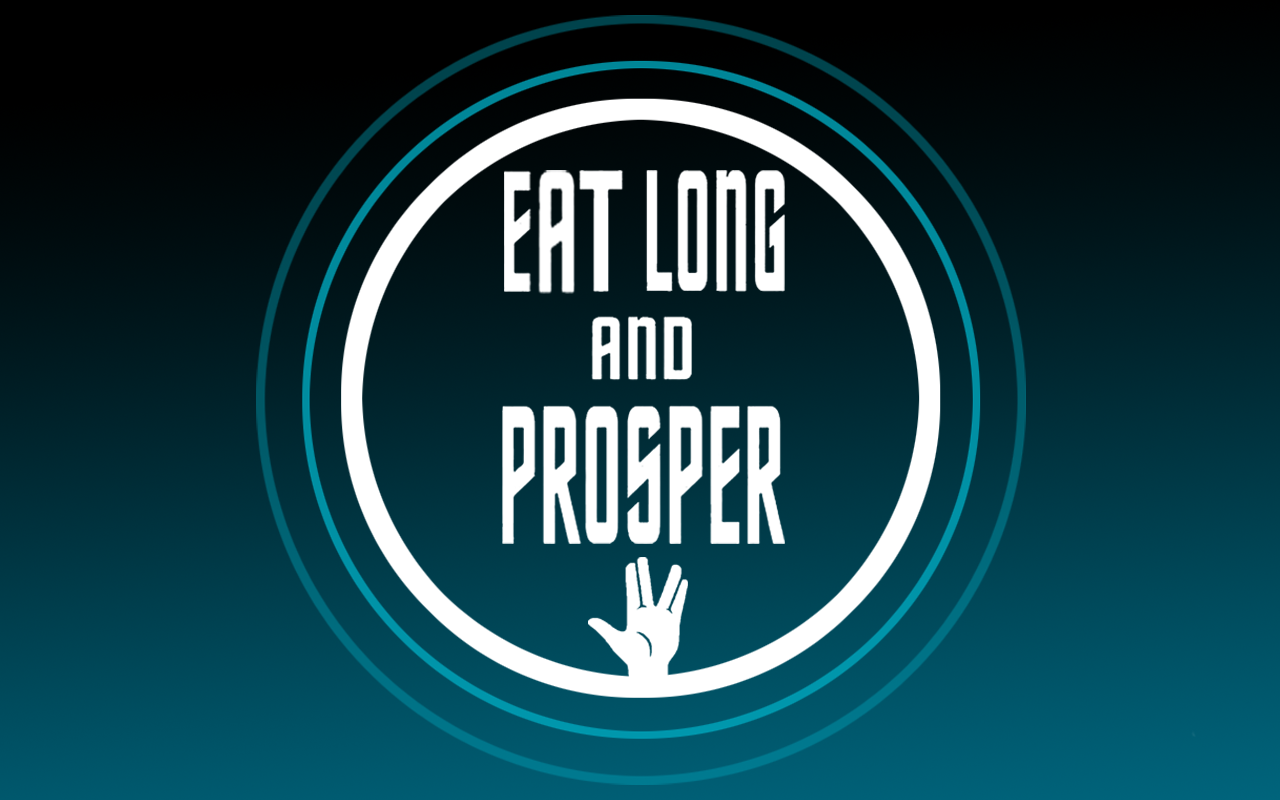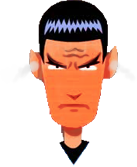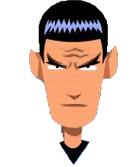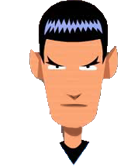 One of the reasons I like working in the TAG space is because they always have such talented artists, photographers, and programmers on the scene. We were lucky that we were photographed by the official TAG photo people.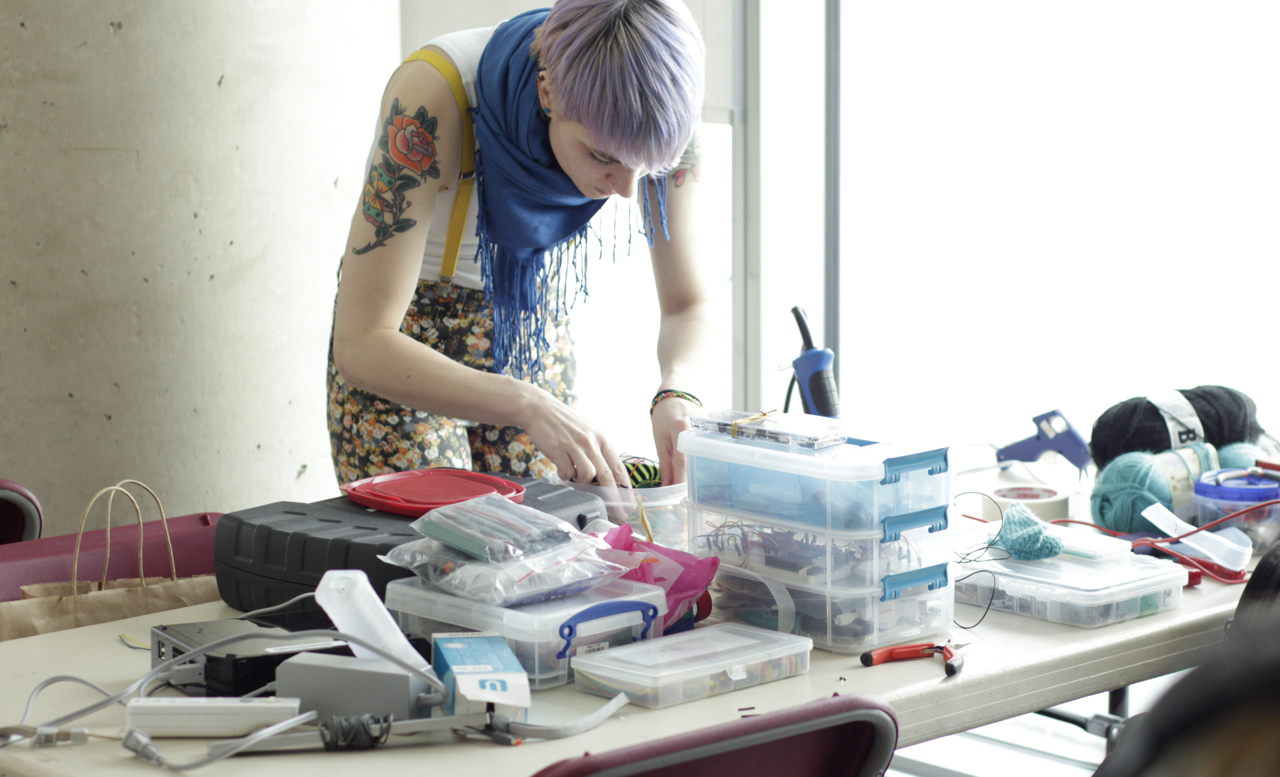 And then, suddenly, within hours of the showcase, Eat Long and Prosper fell into place. I don't know how to describe it, but as 14hr, 15hr, 16hr rolled by, we were getting a tremendous amount of work wrapped up and problems were being replaced with solutions. So. Amazing.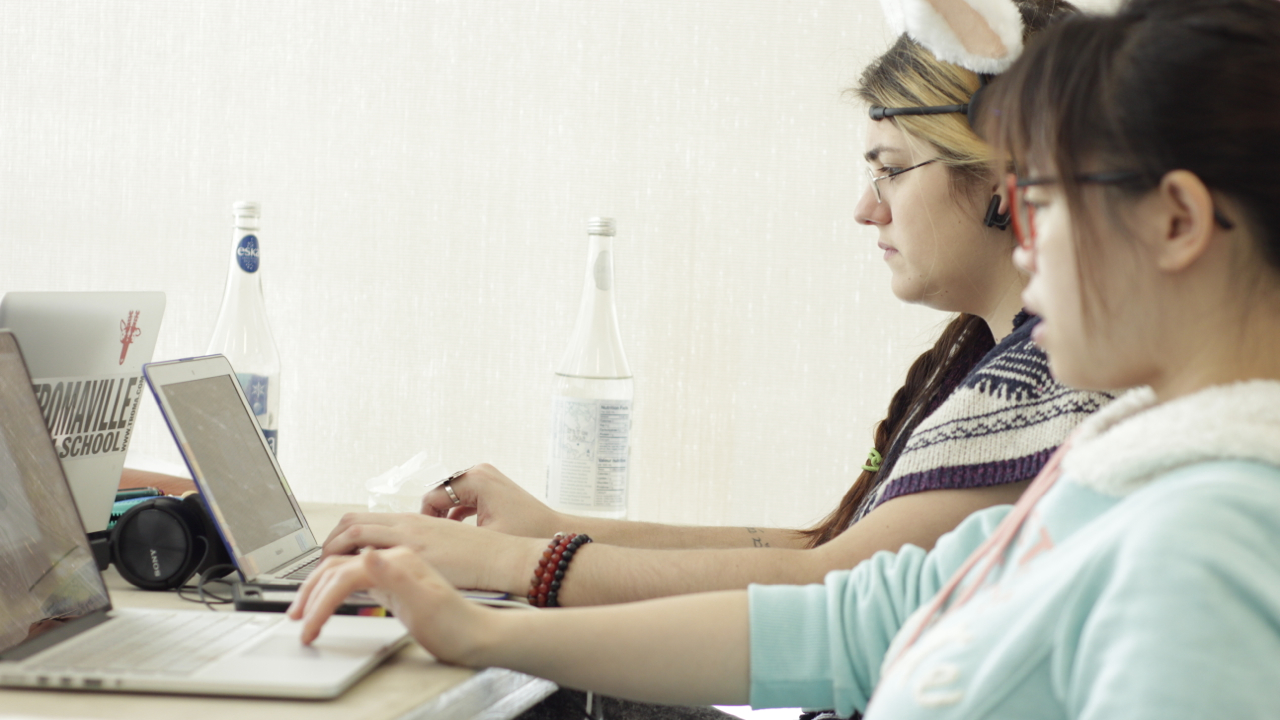 @one_crafty_lady @CodeLiberation @wooden_nickles @gersandelf #SPOCK game almost done!! Playtesting starts in a bit. pic.twitter.com/E9vAULacOS

— Critical Hit (@CriticalHitMTL) March 1, 2015
The team of @gersandelf and @one_crafty_lady is making a game to honor #LeonardNimoy pic.twitter.com/qlAt6JqK7f

— Critical Hit (@CriticalHitMTL) February 28, 2015
Controller ready! Come 7pm, EV building! Eat Long and Prosper y'all! @CriticalHitMTL @wooden_nickles @gersandelf pic.twitter.com/SK7qwXD9vH

— Jessica Blanchet (@one_crafty_lady) March 1, 2015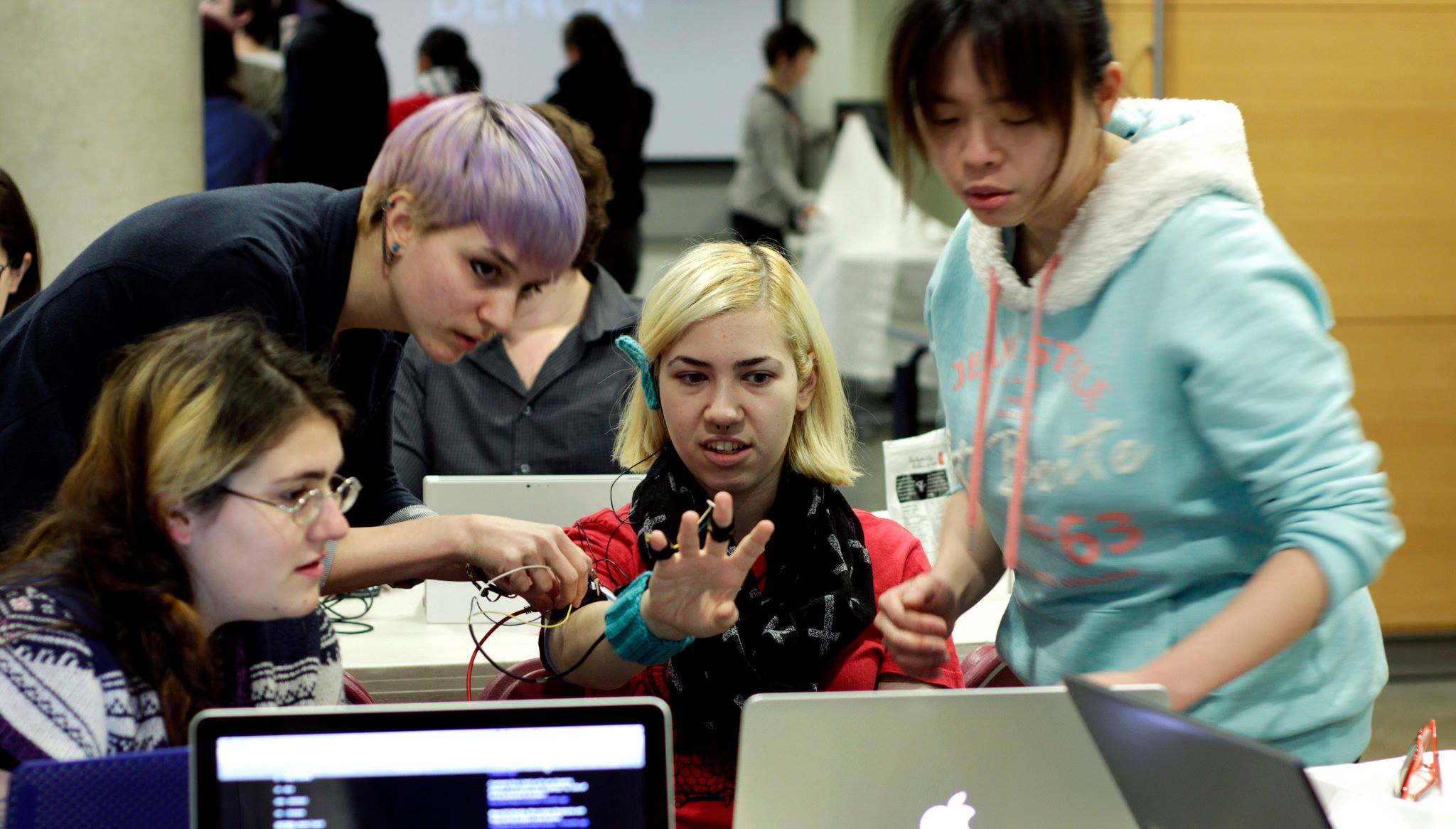 You are more than welcome to play Eat Long and Prosper yourself by clicking the itch.io link at the bottom of this blog post. Sadly, I cannot use a transporter to beam the game controller to you, but the game is playable with a regular old keyboard (press "W" and "S" at the same time to engage).
Eat Long and Prosper is probably the shortest game I've ever made. I contributed to a lot of the code running it (it's quite dirty but it works!) and programming in Processing was a lot of fun! I'm starting to get the hang of OOP, which is neat.
It's a sweet game, in many ways. It's about Spock, but it's also about life. It's about moderation but it's also about indulging, if just a little. You can't win the game without happy - it's a balancing act, but its not only a balancing act.
Thank you so much Jessica, Milin, Marysa. This game is unbelivably beautiful and, in my eyes, perfect as it is and also an opportunity for working on it more.
To all those who jammed, read this blog post, played this game, or want to play -
Live long, and prosper.
---
GAME PLAY VIDEO!!!!