Over and over, these past few months, I hear folks telling me how much they are affected by their living spaces, by the beings and creatures that surround them on a daily basis.
Now, I've finished my very last exams for university (knock on wood) and have begrudgingly accepted that yet another truly impossible stuffy Montréal summer has begun. The apartment that I share with my partner, some plants, and a small black cat has become inundated with plastic containers we've rented in order to pack up our things for the move. I dislike the boxes' plastic smell, and I don't like the process of hiding my books away into boxes. The walls empty of their shelves, and my books are like small manifestations of my psyche, of me—without my books, the walls look bare. Without the bookshelves, I can see the small holes left behind by former tenants, clumsily painted over in mismatching paint.
In the parc down the street I sit under old silver maples, and watch an enormous moon sitting against some clouds. On my way home I run my hands along the bark of old peupliers trees in the alleyways that criss-cross my neighbourhood. I know these alleys well, and have met upwards of several dozens cats over the year. I have never lived in a place with this many cats, they outnumber the raccoons and skunks and keep them out of the alleys.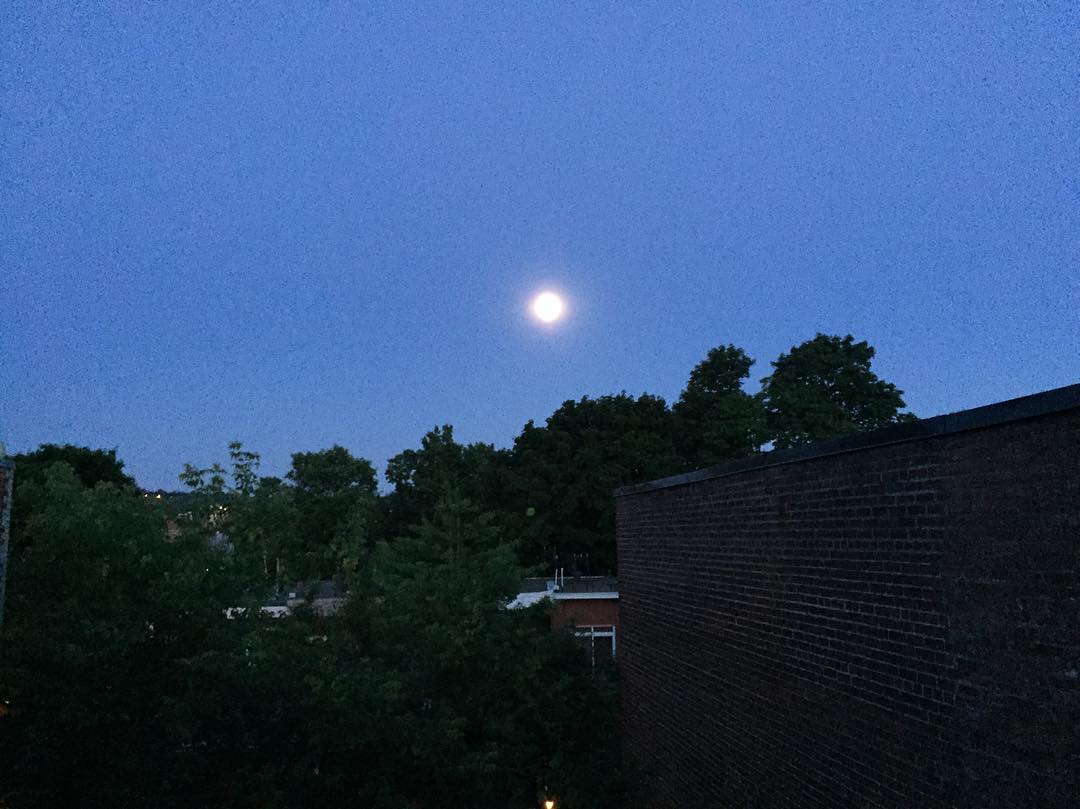 A few childhood creatures linger—an old stuffed bear called Bernard has been a constant companion my whole life, and sits on the packed-away boxes of books and overlook the nightmarish mess that is our bedroom. The cat carries around a small stuffed animal kitten in her mouth, and she likes to trot around in the apartment with it, presenting it proudly to my partner.
We live on a boulevard. The street never quiets. Even in the darkest hours of winter nights, eighteen wheelers and trucks make the earth shake as they motor past our building. The street is one of those characteristically long Montréal boulevards that connect one end of the island to the other. This apartment is laid out oddly. Our bedroom is on the street-side, so we almost never leave the windows open, even in this heat. The noise and traffic fumes outside are just too much. Even with the few trees that dot the boulevard, the street is hostile and the cement bakes the air, stifling it, choking it. There are too many cars for folks to gather on their apartment balconies. In the spring, the lilac bloom mixes with the smell of spent fuel, and a sickly-sweet aroma lingers on our front door. In the summer drivers blast their speakers as they drive downtown from the east of the city, girls screaming drunkenly along to various pop songs right under our window.
I prefer the alleyways. I love the alleyways: their uneven, broken-up cement and rain puddles that become slightly treacherous at night. There are no streetlights in the alleyways. I've lost count how many times I've tripped in the dark, but at least for a few short moments, I am shielded from the streets. I vanish into the hidden structures of the city.
Plants that survived the past year in this place: an orchid (surprisingly!), a sweet basil, several onion plants, some garlic and chives, a peace lily. Plants that did not make it: a rosemary plant, and a beautiful little habanero tree that is currently desiccating on the balcony beyond salvation. It was the surprise frost in the end of spring that did it in—the same frost that killed the lilac bloom early.
I started the month of July last year in this place. I wrote a small post for this blog, called Fallow. I entered this apartment feeling tired, and realistically probably very burned out. I spent much of the past year feeling like I was hovering on the edge of a precipice, waking up every morning a little more exhausted and feeling worse than the last. I think I will leave this apartment just as tired, but with an odd, new feeling. The feeling of having no work or school obligations, of an almost completely open future...at least for a while. I can just be. I can just focus on one thing at a time for a while. Is that not an incredible luxury, an incredible privilege? Realities of having a useless university degree and no jobs or income lined up aside, I broke down into tears after my last exam, my last essay, because I felt like Atlas if, for a moment, a friend had lifted the world off his shoulders.
My partner bought me a bouquet of yellow and white flowers with long branches of young leaves to congratulate me for finishing my last set of exams. The flowers sit on a dinner table we haven't actually sat and eaten at more than a half dozen times. My partner uses it as a desk. It's covered in old flyers and mail, papers and boxes. I could say it's only that messy because we're moving, but in truth it's always that messy. We both really wanted this dinner table, a small and cute object made out of real wood, and it was important for both of us to have a place where we could sit and eat. It makes me wonder why we don't use it more, and if that says something sad about us, about the lifestyle of eating convenient food in front of our computers while we work.
We leave this apartment for a variety of reasons. Some are financial: the rent of our new apartment is not significantly lower, but we'll be within close walking distance to affordable markets and grocers. We'll feel a little less outclassed by the shops and stores around us—and we'll be closer to some of my favourite second-hand French bookstores. It's little things, but it makes a great difference to the psyche at the end of long weeks.
And apart from other reasons such as the noise and the bustle of the street we live on, I think I want to leave because I'll always associate this apartment with being an apartment where I had to ride out the consequences of burnout. Where we can't open the windows and let in fresh air to evacuate le renfermé. Where I struggled to finish my undergraduate degree. Where I felt exhausted, and exhausted, and exhausted again. Where I received the news my grandfather died, and I stood on the back balcony and screamed.
Yet outside of this apartment, I discovered the Plateau, after years living downtown or in NDG. I walked its little hidden parks. I walked from the mountain to the east. I found the joys of being able to walk to the Kouign Amann every Sunday if I can, if I want, so I can eat real pain aux raisins, like the ones I had as a little kid in Brittany. And I've become accustomed to Saint Stanislas, on some weekends when his church bells ring out for a wedding or some other event.
I like the Plateau's silver maple trees, and the lilac that only blossoms for a few weeks in spring. The tulips and rosebushes, and the massive dandelions that run amok, bludgeoning through the old cement on the sidewalks.
The alleyways—have I mentioned how much I love the alleyways?
So my partner and I are staying in the Plateau. We're not moving far. Tomorrow I will have to make a serious effort at packing. It's been a good, if long, year here, but it's time to leave this apartment for another.