My 5 favourite teas and herbal teas of fall 2019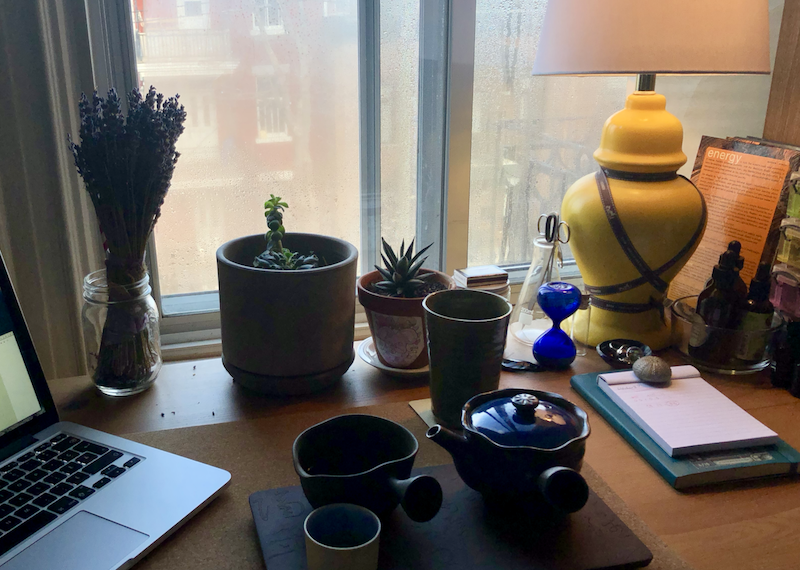 This fall has been much colder than usual, which at the very least is conducive for tea drinking. (In Montréal, we've already had snow, which is very early for us. Chaotic climate change…) Here are a few of my favourite tea blends from the past few months that keep me happy and warm.
(Small reminder that none of these teas or links are sponsored content.)
The first two teas on this list are my first forays into matcha tea! For my birthday, my partner gave me a little bowl and a bamboo whip to prepare matcha. I'm really liking this camellia sinensis take on espresso (or is espresso a coffea arabica take on matcha?) even if I can't usually drink it every single day, as the high levels of antioxidants translates into very high levels of caffeine.
Matcha Sendo, Camellia Sinensis, Uji, Japan
Matcha sendo has a full-bodied, elevated taste. I found it at Camellia Sinensis (the tea salon in the Quartier Latin here in Montréal) following the recommendation of one of the workers behind the counter. It was a really good suggestion — and as my first ever foray into making matcha it's become the standard against which I judge most of the other matchas that I've tried since.
Horai No Mukashi, Ippodo Tea, Japan
This is the tea that Ippodo Tea recommends to matcha newcomers. It has a bright flavour mixed with a hint of earthy and floral notes that balance out the usual umami. I really liked this tea, especially when I added a little bit more tea to water than the suggested preparation (2.5g instead of 2g). With hot water, the result is very green, and incredibly delicious.
L'ange-gardienne, Camellia Sinensis
When you open a package of this tea, the very first smell is thyme. A lot of thyme. But then it's followed by the sweeter, bright notes of pine, goldenrod, and althea officinalis (marshmallow). Despite the fact that I do need to sweeten this tea with honey to mellow out the taste, I still find it extremely effective for its calming, anti-inflammatory properties.
These are also all plants that have long been used in herbalism to boost the immune system. With its interesting, textured flavour, I've really enjoyed drinking this herbal tea blend every night.
Ippoen Gyokuro, Ippodo Tea, Japan
I really love this tea! My father brought me back a 50g bag of this tea at the end of October and I drank the whole package in record time.
If I was forced to choose, I often think that gyokuro is my favourite type of tea. Ippoen is maybe a little more subtle than a lot of gyokuro I've had so far, but I find it simply delicious. I like to drink it almost cold, and it keeps a wonderful flavour even when I forget my cup for a half hour when I'm reading. Thus, a very good tea to drink with a book…
Bamboo Chai
This is one of the house recipes from the salon de thé Cha Do Raku. It's a herbal tea inspired by the spice mix of Chai, without the camellia sinensis plant.
This very spicy and floral herbal tea features a recipe that changes every season depending on the availability of ingredients, but the recipe is almost always built around Shikoku Kumazasa bamboo leaves. It's a warming and energizing tea — but without caffeine, which makes it ideal when you need to stay alert in the evenings without completely ruining your sleep rhythms. One of my favourite discoveries this month!
And there are my 5 favourite teas and herbal teas of the season. What have you been drinking lately?