Quick Book Review: Nottingham by Anna Burke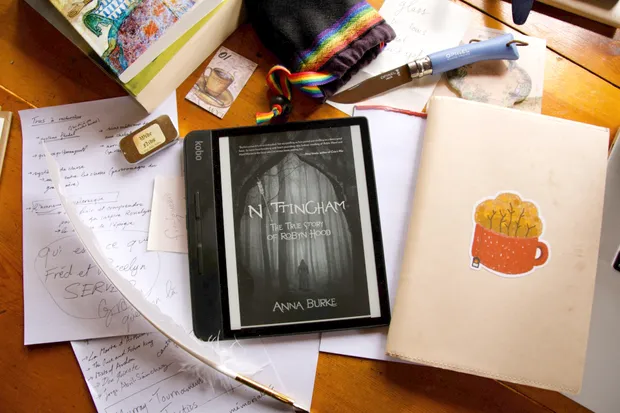 Since I'm not vlogging for the next month or so, I thought I'd still share with you all some short reactions to my reading, since I'm still always reading. I hope you're doing well out there!
I found this particular novel on a list from Chaima's hilarious June 6th blog post 🌈 Be Gay, Do Crime: Queer Heist Books Recommendations for Pride Month 🌈 and I'm so glad I picked it out. The era is one that I'm interested in, set in the latter half of the twelfth century, and I love gender-twisty retellings of familiar stories.
Anna Burke's tale remixes the familiar story of Robin Hood into the tale of Robyn Hood, her band of Merry Men become Gay Queers in Nottingham Forest, and the love story between Maid Marian and Robyn the beating heart linking together all sorts of plots about how women and peasants try to survive their feudal lots by trusting and relying on each other.
I devoured this book in a feverish evening and adored every second of it. Though the book is not perfect (among other things, there are some moments where the plot felt heavy-handed rather than period-appropriate with its use of power-mad and abusive men and fathers) the story reallyshines in its portrayal of a trans man (not Robyn, but let's avoid too many spoilers here!) who ends up in many ways the pillar of the found family and unlikely band of heroes searching for a way to not just survive but fight back. I was pumping my fist and squealing every ten pages or so!
Anna Burke's book is absolutely worth a detour if you enjoy historical fiction, or just enjoy narratives where robbers and thieves steal from the rich.
Share post on Instagram: https://www.instagram.com/p/CQL8YimHR5_/
🌈🏹🌈🏹