That this finds you well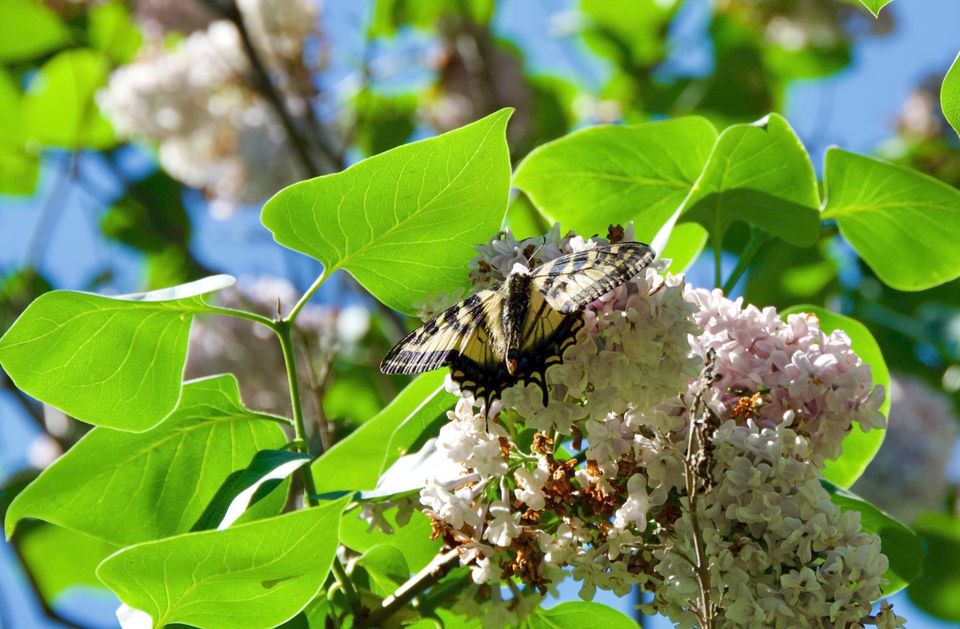 I have removed myself from the city for a few weeks now and am up on a mountain, surrounded by beautiful bright yellow lilies and deep purple wild irises and so many copulating butterflies. I'm not even exaggerating, a pair of dancing tiger swallowtails smashed themselves into my face this morning when I was bringing my laundry inside! Welp.
The cat has accompanied me. As this cabin — my grandmother's, but she's not here these days, age comes for us all, hers is a story of ungraceful aging I will not get into on this blog — is infested with mice and chipmunks, their presence has awoken his Inner Beast and he has metamorphosed from Needy Fluffy Cat into a (Still Very Needy and Fluffy) Mouse Hunting Machine. I woke up on yesterday morning to yet another dead mouse mangled on the carpet, the Fluffy Hunter himself strutting around like a self-satisfied prince and screeching for his breakfast.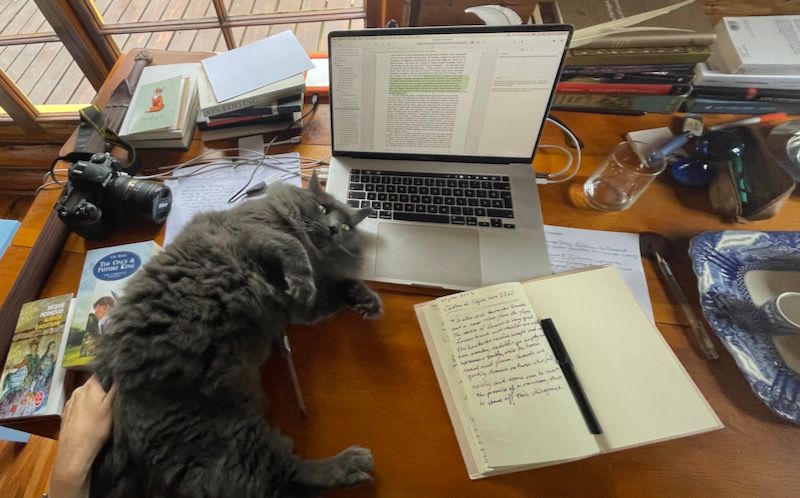 Cat shenanigans aside, these weeks have been gods-sent. Up until the end of May, I had been in continuous and often relentless close proximity with another human being for over 15 months. He is my favourite human but my entire body was screaming at me for silence, and some kind of solitude, and the desire to follow a rhythm of existence completely unburdened by anyone else's presence. (The cat doesn't count, I guess, and he is helping with the chipmunks brazenly running all over the kitchen.) I've been very cautious about complaining about this, because I realise that for so many it's the reverse that has been true. Prolonged solitude is brutal on the psyche and nervous system. But unending physical proximity to a single person 24 hours a day, 7 days a week for more than a year builds a different kind of friction and angst, I think. We both work from home, and we can both be homebody-ish. It was getting to the point where going off to aimlessly walk the city for two hours every few days was giving me far more blisters than stress-relief. Among other things, I live in an intensely dense area population-wise, the vast majority of people do not have their own yards, and everyone is cabin feverish and desperate to be outdoors. Every day, on the sidewalk, in the parks, even in my beloved alleyways, it feels like a music festival, but not in a good way.
The removal from the city has helped me get (somewhat of) a handle on some truly exasperating anxiety that's been following me around for the better part of the last year. I'm finally sleeping through most nights, I'm taking less medication for pain and migraines. It's a really noticeable improvement, though I'm not sure how long it will last.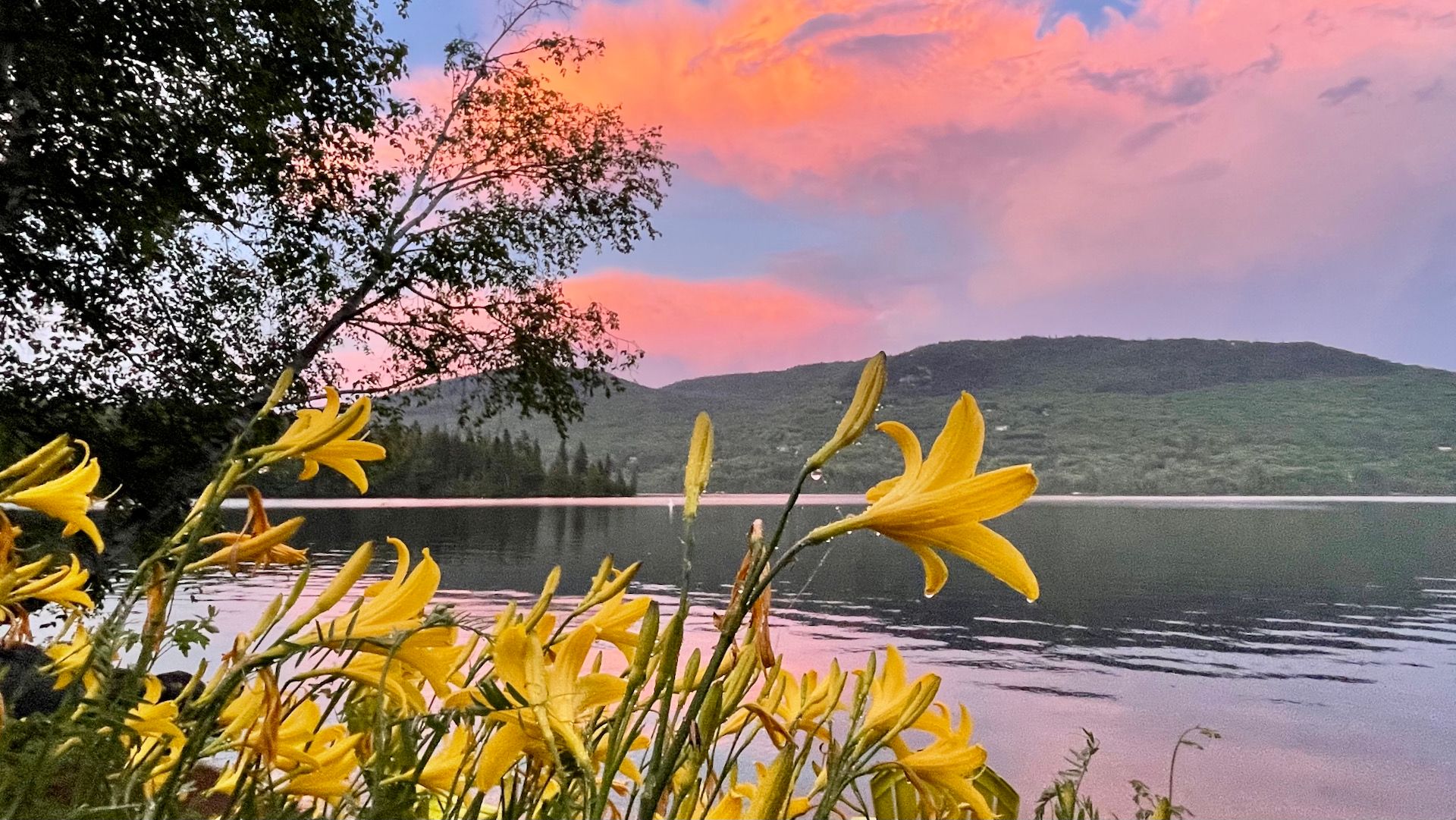 The lack of easily-accessible internet plays a role here, I'm sure. Apart from taking care of the odd task for a client, I'm online a lot less right now. To fill the non-billable hours, I'm reading a lot more. I'm finally making strides on the research through twelfth-century France for a book I'm drafting. It gets pretty cold here at night and in the evenings, after I get the fire going, I work through the pages of notes that have accumulated since the idea at the heart of this project came to me late last October. I have a quarter of an outline done so far, some scenes typed up, and many of my characters are starting to take on names, desires, and voices of their own. It's unbearably exciting; ironically it takes most of my self-control to not call up my partner and gush at him about every little breakthrough, because wasn't this whole thing about getting some much-needed (much-needed) space?
My partner was very understanding when I explained to him a few months ago that I needed some time apart, and that I was planning on coming up here for June. He comes up most weekends to help me restock on water and fruits and pains aux raisins (the nearest town is not far on motorized wheels but definitely not within a day's walk, especially not when I need to buy litres and litres of water). I still don't have a driver's license. Honestly, it wasn't until this year, when a pandemic cut me off from public transportation, that I really felt the lack of a license was a true obstacle in my life. I'm sure I'm not alone there.
I have a calendar out on the table that I have moved against two windows, and where I have marked the time I have left. It's not nearly enough for how much writing I need to do. I watch the days tick by assuredly, and know that my time here is precious and limited. I don't want to waste a single damn second of it.
What I've Been Reading
If you want to watch the vlog entry where I talk a little bit about some of the books I'm using in my on queer history throughout Antiquity and the Middle Ages, do check it out over here on the good old YouTube. I also go over my reading of Jane Austen's Persuasion, Marie-Aude Murail's Oh, boy! and Susanna Clark's almost indescribable and beautifully ephemeral Piranesi in that video. Last week, I also released my reading recap from May and very early June — throughout the video I cover my thoughts and reactions to Terry Pratchett's Mort, Ursula K. LeGuin's A Wizard of Earthsea, Jean-Paul Sartre's La Nausée, Sabine Hossenfelder's Lost In Math and Tamsyn Muir's Gideon The Ninth and Harrow The Ninth.
If you can, I hope you'll consider joining my Patreon if you find the writing on my blog valuable and would like to support my readerly, bookish endeavours over on YouTube. Right now, I'm trying to pour a lot of energy into some long-term creative projects, like the book I'm researching! The more support I get over on my Patreon, the more time I can allocate on all my own projects (including this here blog!) because I won't have to worry about filling in my hours with client work.
I hope, wherever you are, that you're finding small ways to handle this pandemic the best you can. Stay safe and take care of each other.