Brief round-up of interesting things for the 21st of June 2019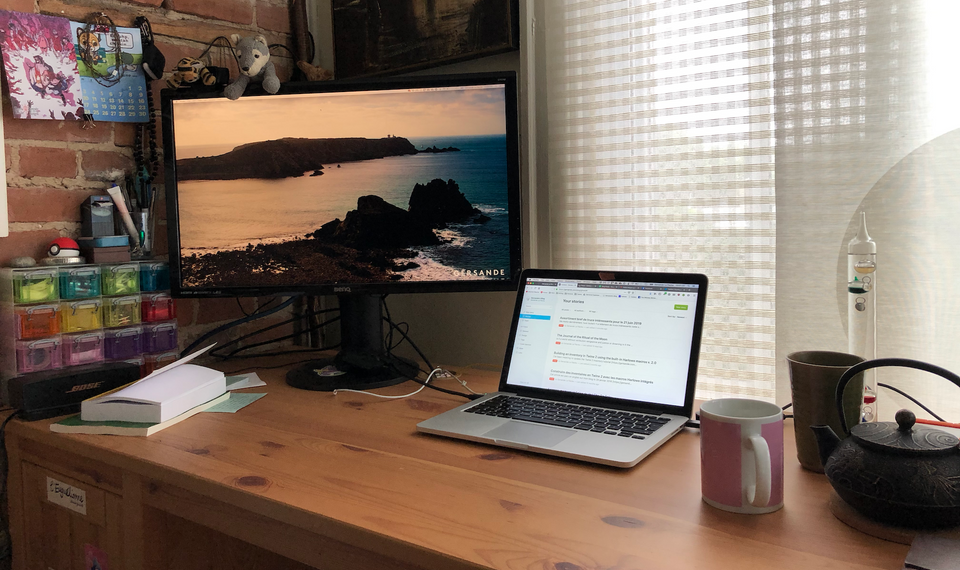 My motto lately is fuck toute, or fuck everything. There's so much going on right now (a lot of it terrible) that this week's list is rather long. So let's skip the intro and get right into it.
→Lire ce billet de blogue en français.            
→Read previous biweekly assortments.
Books
The Poppy Wars by RK Kuang : WOW. Damn good book. War, oppression, indoctrination, fake meritocracy, the relentless efforts of a young marginalized person, a magical system anchored in our world — I really liked this book. Fantastic, and completely heart-wrenching, too! I really recommend it. I do want to share the following content warnings for realistic portrayals of drug use (heroin) and addiction, rape, and war crimes. But look into it regardless!
Antiféminismes et masculinismes d'hier et aujourd'hui de Christine Bard, Mélissa Blais et Francis Dupuis-Déri : I admit I haven't completely finished this one. I often read nonfiction books out of order, starting with the chapters that intrigue most. I started by reading the chapter on the celebrity anarchist Proudhon who was an antifeminist, and also read the chapter on catholic identity against diversity. I have barely covered 20% of the book, but I've found it really interesting so far, hence why I'm throwing it in the mix.
Articles
If you want to help Sudan, amplify the voices of those suffering its horrors : Nersine Malik's article describes what's happening in Sudan, the revolution, the coup, and highlights that public worldwide attention to Sudan could make a real difference: "The Sudanese people came this far on their own; help them by bearing witness and raising their voices so that they can drown out the propaganda of the regime, and the disinformation campaign of its Arab allies."
Sondage: les conservateurs en avance, même au Québec: Arij Riahi shared this article on Twitter with the caption : « Winter is coming ». Essentially, the Federal political lanscape of Québec is changing. Andrew Scheer is dominating over the PLQ and evern the Bloc, and the NDP and Greens lag far behind. It really feels like la vague orange was a long time ago.
La femme qui dérange: Literally, "The woman who disturbs." For those of you not up-to-date, there was a transphobic and sexist scandal over a tweet by Gabrielle Bouchard, president of the FFQ (Fédération des Femmes du Québec).
Denis Lévesque a lui aussi déchiré sa chemise : Related the article shared just above and in response the same situation, I'm sharing the responses by the FFQ to the transphobic and sexist backlash against Gabrielle's tweet. La lutte continue.
Who's the Villain in 'When They See Us'? : Speaking of backlash, Jamil Smith takes a look at the consequences surrounding Ava Duvernay's newest mini-series When They See Us. Among other things, Smith remarks that the repercussions of the Netflix series are fixating on the individual human element rather than the systemic components — there is a Linda Fairstein in every city. So what are we doing about it?
A Quebec bill to ban some from wearing 'religious symbols' is fueled by Islamophobia : Nora Loreto's latest for the Washington Post on Bill 21, now law. Especially a good read if you still haven't figured out that Bill 21 is built on white supremacy and racism.
La bataille judiciaire s'engage autour de la Loi sur la laïcité de l'État : The law, which among other things forbids certain Provincial government employees in positions of authority, hired after the 27th of March 2019, from wearing visible religious symbols (such as: judges, prosecutors, police officers, prison wardens, public school teachers, primary and secondary school directors) is already being contested in court by education student Ichrak Nourel Hak and lawyer Catherine McKenzie, with the support of the National Council of Canadian Muslims and the Canadian Civil Liberties Association.
Canadian mining companies will now face human rights charges in Canadian courts : Canada is the country with the most mining corporations in the world. For decades, these Canadian-based companies — many whom operate chiefly abroad — have dodged legal accountability for their actions. In the face of accusations of slavery, rape, and other humanitarian and environmental abuses by exploiting, they've dodged any sort of accountability by exploiting a legal precedent that essentially allowed Canada to abdicate the responsibility of holding them accountable. But that's about to change.
Cette langue qui ne voulait pas changer : Ahhh, l'Académie française... criss de téteux!!! A good look at the classist, reactionary, and socially-backwards nature of the Académie française, which is a backwards and awful institution.
Podcasts & Videos
Pewdiepie and The Rebranding of White Nationalism : Kat Blaque describes in detail the way in which white nationalism transmits and reproduces itself through YouTube.
Why is "LeftTube" so White  : Excellent video to take seriously. Kat Blaque is personally affected by misogyny, transmisogyny, and racism, and in this video she gives a heartfelt talk about her experiences as well as talk about the lack of diversity amongst "LeftTubers."
#218 Whose Pipeline Is It Anyway?  : Andray Domise et Ryan McMahon take over Canadaland for the day to talk about Canada's latest news. In particular, they talk pipelines, racism, and climate change. Good talk.
Misc