Five Finds at the Festival BD de Montréal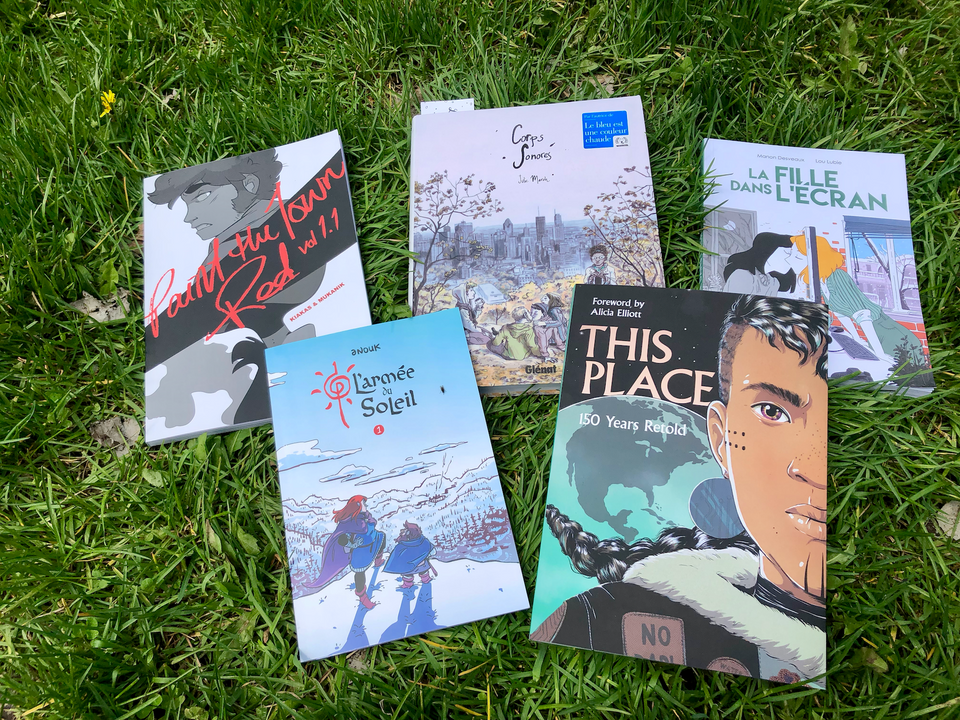 This weekend, Leif and I were taking full advantage of the sun in La Fontaine park when we discovered the Festival BD de Montréal by accident. "BD" stands for "bandes déssinées", referring to the Franco-Belgian canon of graphic novels and comic books. I found five excellent BDs (and met several of the authors! RIP my credit card...) and I'm sharing them with you all below.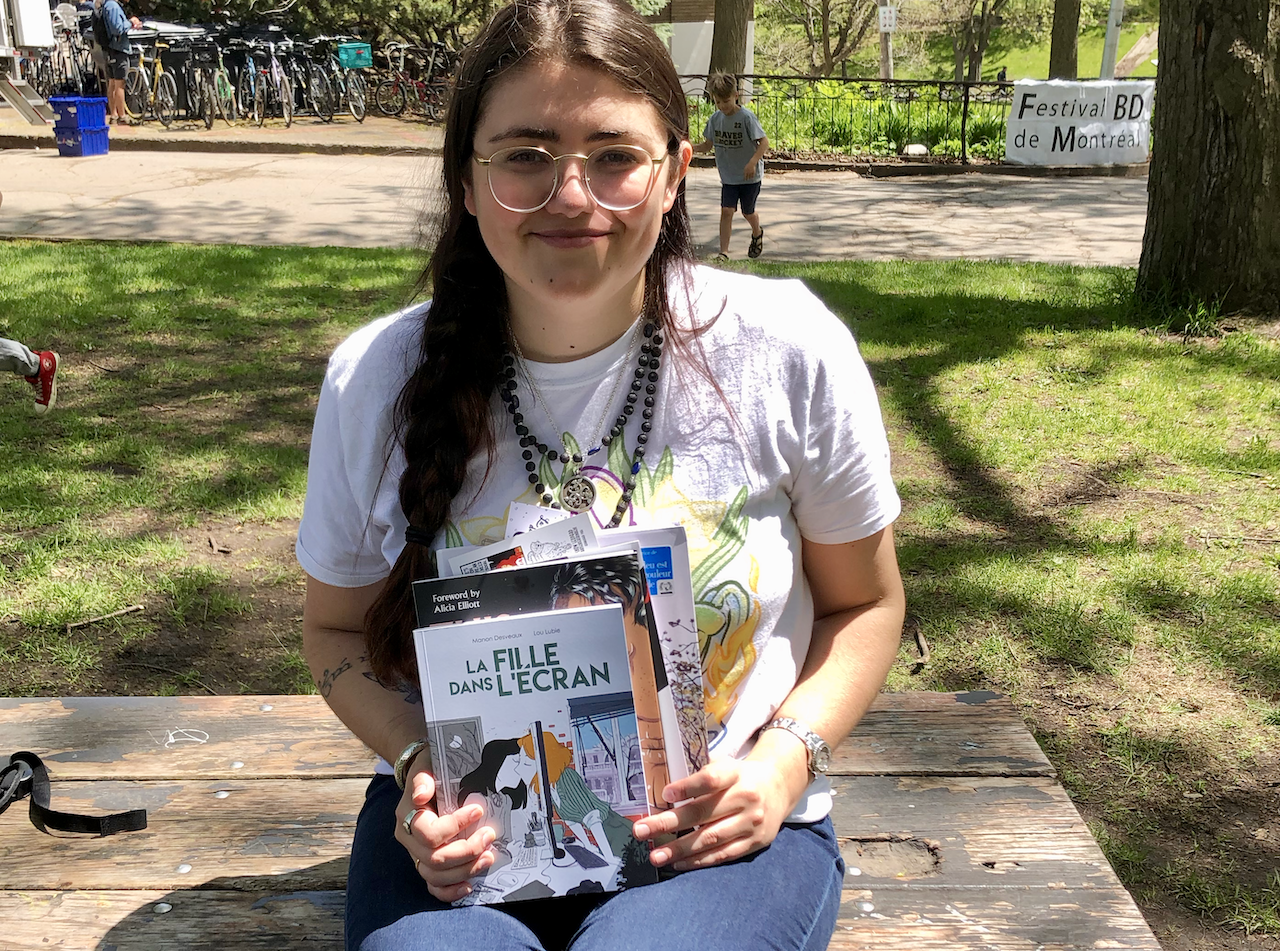 There's nothing that really ties all the BDs together apart from the fact that they're all graphic novels or comics that I like. In this little list you'll find some very queer stories, stories that take place in Montréal, are in English, are in French, realistic, fantasy or science fiction stories, and one graphic novel that sensitively tells the stories of resistance and resilience of Indigenous peoples in North America when facing colonization.
Without further ado, let's get into it.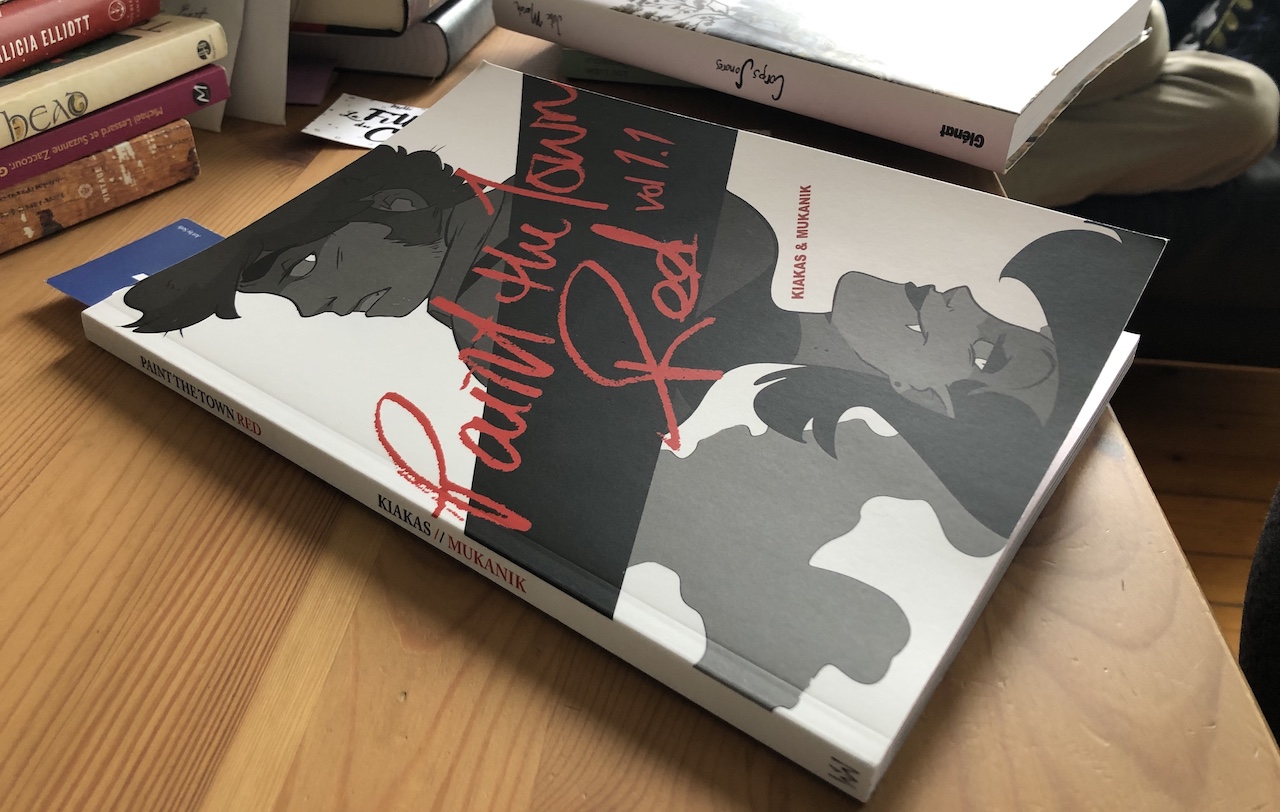 Paint the Town Red Vol 1.1 by J. Kiakas and Tasha Mukanik
A queer and polyamorous romantic comedy featuring the newly-turned werewolf Winona who runs the Barlowe Shelter for supernatural folks with her friend Odile, another werewolf. One night, Winona finds injured vampire Vic on the stoop of the shelter, and before long they can't deny the connection that forms between them...
This is a brand new comic with a very stylized art style and very adorable characters. Volumes 1.2 and 1.3 are on their way, and I'm looking forward to them! (As far as I know, there is no French translation yet!)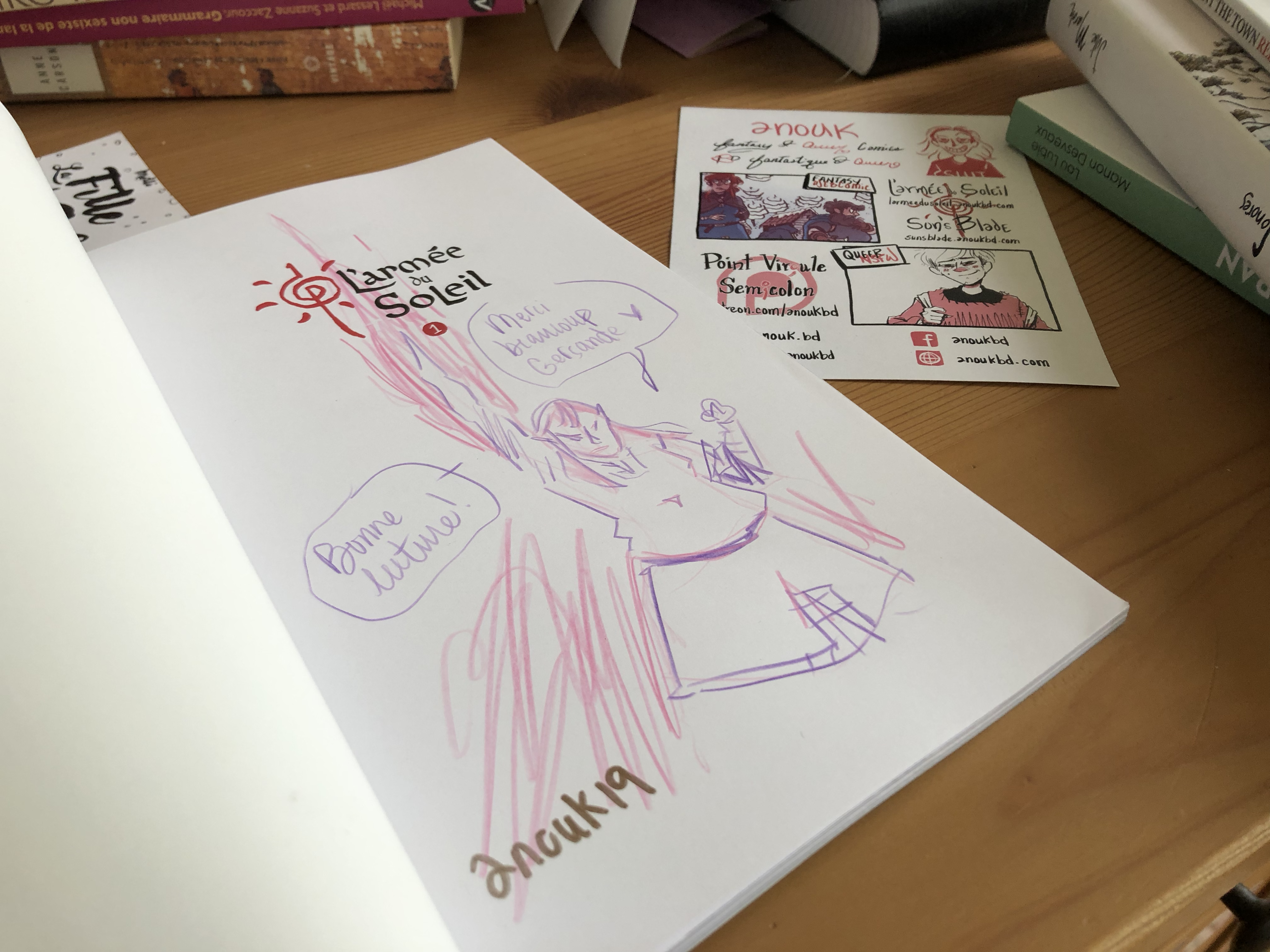 L'armée du soleil by Anouk
A mysterious beginning! The elves Anaïs and Wilhem as well as the dwarf Fritz form a trio of adventurers on a sea voyage when their ship suddenly sinks off the coast of a mysterious island covered in snow and filled to the brim with the living dead... The suspense is palpable in this story where our heroes face death, reveal bits and pieces of their origin, and relearn to trust each other.
Even if the setting is very familiar for someone who plays a lot of Dungeons and Dragons, I found the conflicts between the characters well executed and I look forward to the next part! (Anouk, the artist, also creates queer comics, so I'm hoping that queer stories get thrown in with the adventure!)  
This BD exists in English as Sun's Blade!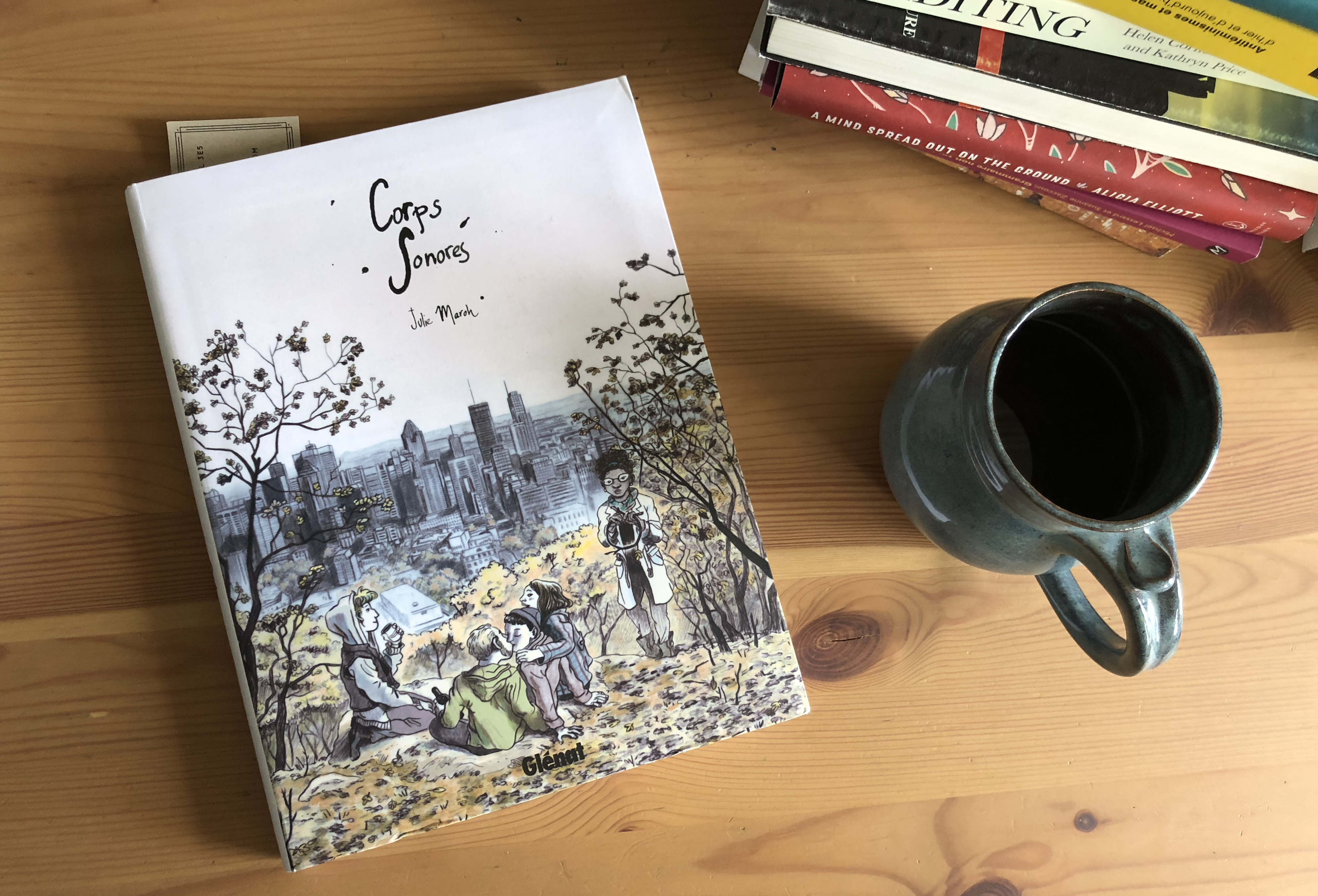 Corps Sonores by Julie Maroh
"Corps Sonores" translates literally to "resonnant bodies" or "sonorous bodies".
I was immediately attracted to this one by its cover, showing off a southeast view of Montréal from the summit of Mont Royal in autumn. This graphic novel, by the same author as Blue Angel's Julie Maroh, contains 21 short stories on the different steps of a relationship, highlighting ruptures and softer moments between people and their bodies.
Many of these stories are breathtaking yet still quite delicate. Throughout I recognize Montréal easily: the Plateau, downtown, the mountain. I recognize myself in the characters as well, in their discussions on polyamory, how to exist in relationship with a trans body, lesbian relationship dramas, the (self-inflicted or not) violence of infidelity, how sickness can weigh down relationships when things get bad...
Corps Sonores is sometimes surprising but always emotionally engaging, offering snapshots of Montréal in all her beauty.
La fille dans l'écran by Manon Desveaux and Lou Lubie
Prepare to cry! But it's tears of joy, thankfully. Maybe it's my age, or maybe because I'm still too sensitive, but when I see the difference between my youth in the 90s and early 00s compared to today, it's incredible. There are so many lesbian and queer stories that have happy endings today! Unimaginable when I was a teenager...
I admit I was hoping that La fille dans l'écran (translation: "The girl in the screen") would be a romance between a Montrealer and a French woman, but it's in fact a story that takes place between Coline, a young French woman who lives in the countryside with her grand parents, and Marley, a French woman who has been living in Montréal since she arrived there for university. But the story, and the execution, is good enough that finally I don't mind!
(A very brief spoiler follows, skip this paragraph if you want to avoid it!) My only "criticism" is not a real criticism and is mostly an observation: the character of Vincent, the man that Marley is in a relationship with for much of the book, would be cartoonish if there weren't so many men exactly like him or worse. Every time that Vincent acted in a way that alienated Marley, I would groan — but I know it's not bad writing. There really are men exactly like him.
I easily recognized myself in the two main characters: in Coline's uncontrollable anxiety, in Marley's indecision. In the feeling of feeling detached from the earth and the place you live. And in artistic frustration, especially!
It's a lovely story of a lesbian romance and personal self-realization that I strongly recommend. The portrayal of the long distance relationship mediated through technology was really well done, and showed how such a relationship can wake us up to real life and spark personal transformation and self-actualization.  
This Place — 150 Years Retold
Contributors (I want to name everyone because this graphic novel is a masterpiece) :
Foreword; Alicia Eliott
Story : Kateri Akiwenzie Damm, Sonny Assu, Brandon Mitchell, Rachel and Sean Qitsualik-Tinsley, David A. Robertson, Niigaanwewidam James Sinclair, Jen Storm, Richard Van Camp, Katherena Vermette, Chelsea Vowel
Illustrations et colors : Tara Audibert, Kyle Charles, GMB Chomichuk, Natasha Donovan, Scott A. Ford, Scott B. Henderson, Ryan Howe, Andrew Lodwick, Jen Storm, Donovan Yaciuk
So, I'm cheating a tiny little bit with this one because despite reading my 5 new BDs as quickly as possible since Saturday afternoon, I still haven't finished reading This Place. But what I have read is superlative.  
Notably, Warrior Nation by Niigaanwewidam James Sinclair and which covers the Oka Crisis really stuck with me. The Oka crisis was a historic confrontation between the Kanien'kéha:ka (Mohawk) people from Kanehsatake and Kahnawake, and the Canadian Army. In general, the event is poorly remembered and understood by Canadian and Québecois settler socity. We discover the crisis through the eyes of a young Anishinaabe man, Washank, who comes from Winnipeg with his mother to offer support to the land protectors against la Sûreté du Québec and the Canadian army.
I particularly recommend this graphic novel to fellow Québécois. We like to talk about our own resistance a lot, against anglophone, American, English Canadian culture. But in Québec we also deliberately ignore our own role in the genocide and colonization of First Nations and Inuit peoples.
So, read This Place and learn a bit more about the history of the Canadian and Québecois apocalypse that us settlers still understand so poorly.