Hairy Baritones and Villains: A conversation with Damien Alix-Souhabi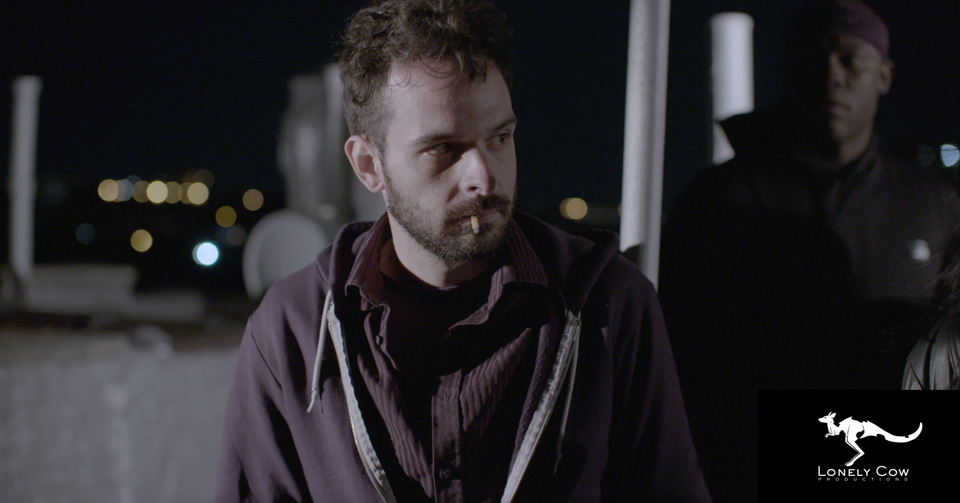 She had always found villains more exciting than heroes. They had ambition, passion. They made the stories happen. —Soman Chainani
I don't really get musical theatre. Correction—that's not quite right. I sort of do get musical theatre, it just was never a major part of my childhood or teen years except for a few surprising exceptions. Most notably, I saw a production of RENT when I was around 14, and for a very young gay kid, that show was actually the first decidedly openly queer art I'd ever seen, though I only truly understood half of what was happening on stage. Years later, my university romantic interest was a violinist in the orchestra for a local Gilbert and Sullivan production company, and over the years we were together I attended more than a few productions. But musical theatre, and many of its related art forms, never quite sparked my imagination.
So it's always a refreshing pleasure to discover something or someone in the musical theatre world who both inspires and compells. I met Damien Alix-Souhabi through a friend, and I not only got to hear him sing, but I asked him to sit down with me for a brief interview where we talked about travelling and doing art, what it was like to go from Montréal to New York City, and his love for musical theatre and the stage.
As a writer (or, aspiring writer) my ability to criticize and rhapsodize over music may come across as suspect or frankly amateurish. While that might be a correct assertion of my abilities as a music critic, as a writer who loves music I also love examining authorial and character voices. I was thus in a good place to examine Damien's character work. While watching Damien I witnessed a heartening, self-possesed confidence expressed in his acting and I found in him the compelling quality of a singer that attracts and holds the attention of his audience. And as I discovered going through the youtube videos that feature him at the centre of an ensemble (as in the video embedded above) or in duets, he is a truly versatile singer with a talent for not only portraying protagonists, but also for playing villains or scoundrels. There's something about villains and the mischievous twinkles in their eyes—they're not just good for grandstanding and sweeping solos, they are often the forces against which protagonists and heroes react. As Damien himself remarks in the interview, villains are often the fulcrum or pivot upon which an entire tale and its protagonists depend. There's a lot of energy that goes into moving the plot forward. In Damien, through his singing and during our interview, I sometimes glimpsed that unstoppable force.
During our interview this past week, we connected thanks to the magic of the internet while I was in Montréal and Damien was in New York City, sitting next to some of the practice rooms of the AMDA. An opera singer was practicing somewhere in the background, setting the stage. Twenty-six year old Damien Alix-Souhabi grew up in Montréal, has a Québécois mother and a father from Tunisia, and is currently creating a life in New York City, via a brief Alaskan detour. The following is a transcript of our conversation, lightly edited for clarity's sake, in which Damien describes his path so far, and elaborates on his future aspirations.
Gersande: So tell me about the Conservatory where you are.
Damien: So this is AMDA, the American Musical and Dramatic Academy. It's on 61st and Amsterdam on the Upper West Side. It's right behind the Lincoln Centre.
G: So how did you get in there?
Damien: It's a strange path, man.
G: Those make the best stories, right?
Damien: Yeah! Everything happened by accident. I've always sung my whole life, always loved to imitate classical singers, and especially Freddie Mercury. Then when I started drinking with my friends and gathering the courage to actually sing out, my friends would say: "Man, you're really fucking good." But I never did anything with it. I was just the guy who sings when he's drunk. When I was in secondary 5, one of my very good friends told me that he had a band and that their singer sucked. And he knew that I was a shower singer. So, I said: "Heck yeah! I'll give that a try, no problem." And it was an astounding success. The crowd went crazy and we started jamming and booking small shows—though, given that we were sixteen so it was hard to book bars and stuff like that. Then I started CEGEP and there was this Beauty and the Beast show that they were doing with this company that was attached to the school and naturally, being a rock star, a seventeen year old rock star, I wanted nothing to do with musical theatre. But I had a girlfriend back then, and her best friend was in the production and she begged me to try because they had no guy who could sing.
G: I've heard that before, yep.
Damien: Right. So I went, auditioned right then on a Saturday morning. They had their first intensive weekend for casting and I sang, and they said: "You're the Beast." So I went in with the lead role, and I absolutely loved it. It was my first experience, I had no fucking clue what I was doing. I was doing a double major in theatre and classical singing, so my voice was completely (geared) towards classical with this background of rock, so it was kind of strange for musical theatre. I had never even really watched any musical theatre before and I really had no clue what I was doing, really. But I had a blast and that was all that mattered. So I stayed with that company for three years. I did Hair the year after, I directed Moulin Rouge the following year. After that I stopped going to school. I was a lost soul for a little while. I got married, and was very unhappy in my marriage. I went back to university for psychology and then, once again, started doing musical theatre again! I did The Lion King. Actually, beforehand I had even gotten into a musical theatre school in Québec but, knowing the musical theatre scene, it had to happen that that year, the year when I enrolled, the school went bankrupt. So that path was suddenly brought to a halt, so in 2012 I got into university and kinda hated it. I got into musical theatre again, though, with The Lion King, and I got to do Scar! I mean, how awesome is that? And right then, the love story just started, again, I completely fell in love with the work, again. And the musical director became my voice teacher. She had a professional company outside of the university, and she took me on. We did a very cool tour in France where we did a show with another university, and we fused with a play that they had written (featuring) a medley of musical theatre.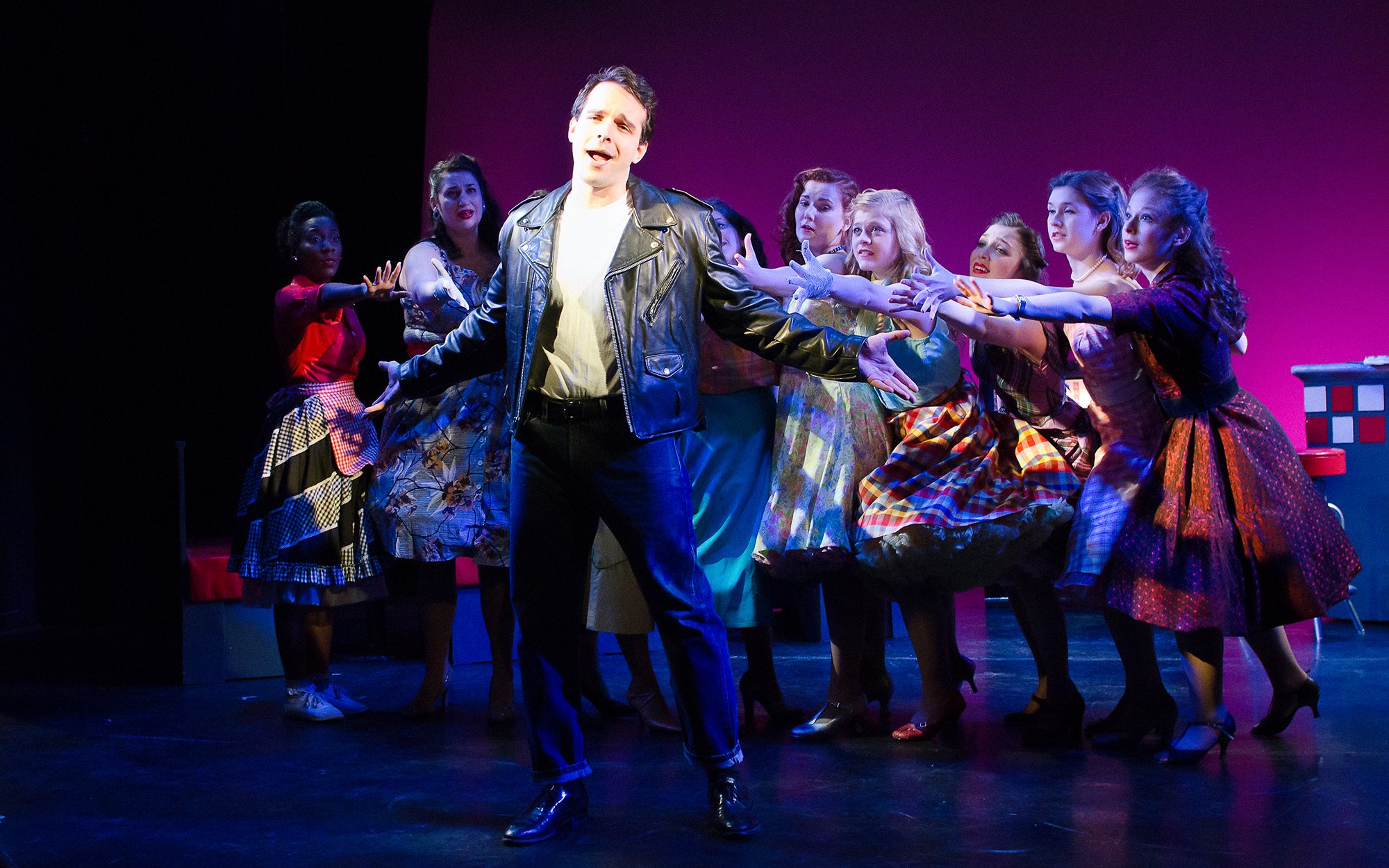 I did Jekyll, Sweeney Todd, Demain matin Montréal m'attend… and The Lion King. I went to France and then they came to Montréal, and it was my first touring experience and even though it was short it was completely awesome! And afterwards, my voice teacher said: "Listen. You need to go audition for a professional school, or I won't let you audition for our next production." I just thought: Man, you're a jerk! But I went to Toronto, and when I came back I got accepted, and she said: "No, fuck Toronto. You need to go to New York, Damien." And, well, in my mind, New York was just…crazy. I'll do it, I thought, I'll waste the money to do that, but I'll never get accepted. Guess what? I got accepted! I got a scholarship. So, that was fun! I still did that last show, we did the full production of Demain matin Montréal m'attend. Ever since I've been doing really well: I've been working constantly. I work catering which is perfect because it lets me pick all my shifts. I'm constantly working. I did one play and cabarets, a lot of cabarets, as well as some film stuff… And now I'm leaving for Alaska!
G: What's in Alaska?
Damien: So, it's a tiny city called Skagway. It was a crucial place for the gold rush at the end of the 19th century.
G: I know Skagway. Yeah! I had "Lucky Luke au Klondike" as a kid and I went through a gold rush thing when I was eleven. One of my dreams is to go to the Yukon, actually.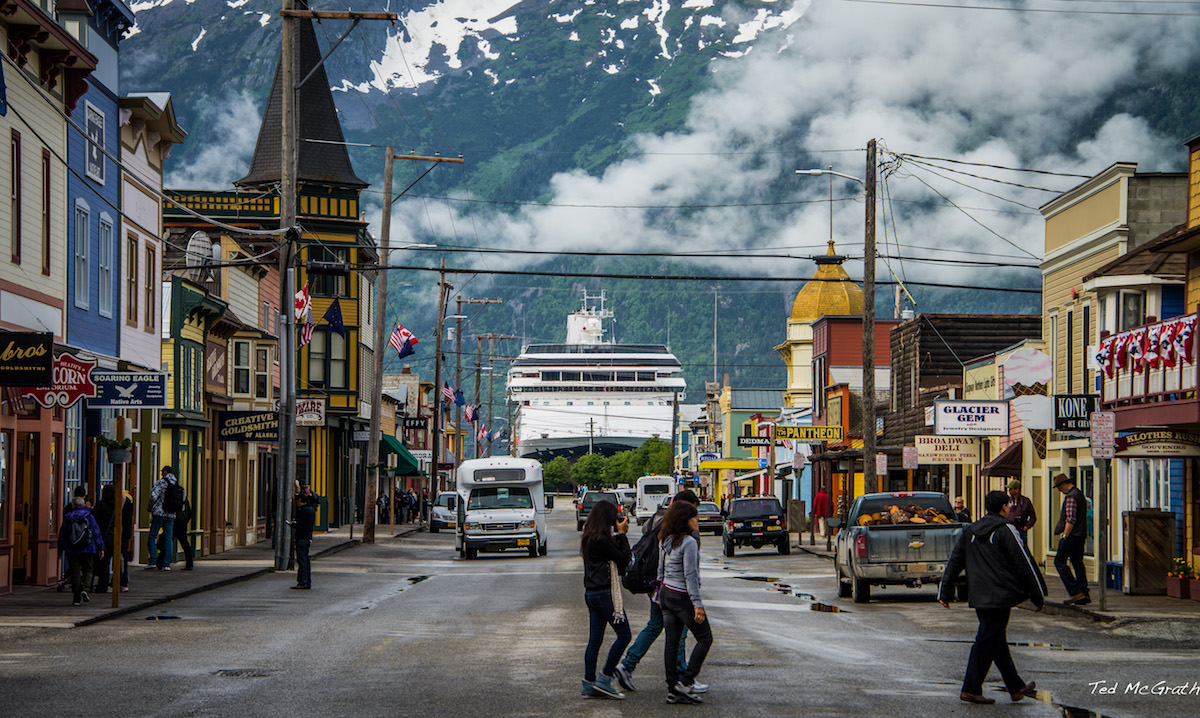 Damien: Well actually, Skagway is right there, nestled in the mountains. It's gorgeous. It's not the Yukon, but during that period, the period of the gold rush, the way the maps were built, it was the Yukon. Yeah, it's very special. That city has 400 people living there. And then during the summer it's such an important stop for cruise ships, they have up to five boats at the same time, and this tiny city will have 15000 people swarming the streets. And of course aboard the ships you get to buy various packages of entertainment and excursions. And one of them is a historical retelling of the gold rush through the eyes of two characters, and drink-making. So my character, Biggin' Burns, gets to explain everything that happens and mixes drinks that were drunk during the gold rush and I'll get to sing a few songs. That's basically what it is.
G: That sounds really cool.
Damien: It is very cool, I'm really excited! I mean, it's sad that I have to leave. But as an artist, it's so rare to get a "yes" when it comes to doing your art, I just can't say no. I've gotten some small gigs with small pay checks and this one is a small gig with a big pay check.
G: That's the dream, right?
Damien: Yes it is. And I've always wanted to travel and work… so I would be crazy to say no!
G: Cool. So, do you play a lot of villains? You mentioned Scar, and then Jekyll and Hyde and Sweeney Todd.
Damien: Yeah, as a hairy baritone. People really do cast you the way you present yourself. So, I'm a confident guy, I walk in the room, standing super upright, and I have a commanding presence.
G: So you're the villain!
Damien: I am the villain. (laughs) I will be cast as lead, but I cast myself, too, and I go to auditions looking for villains. I do need to expand my range, because I'm in my comfort zone. My character that I'm going to play in Skagway is a bandit, part of a group of misfits following the gold rush, following opportunity… So it's still within my range, but I guess I have to diversify a little. When I come back, during the audition season, I'm going to go for more stuff.
G: I do think villains are more fun. So are anti-heroes. So are people who are like: Fuck it. I'm going to do what I want. That's just way more fun.
Damien: Oh yeah, oh my god. And it's pretty far from myself, because I consider myself to be a person aligned with light and goodness (laughs) so the creative work required to find that place of hate or anger. It's very indulgent. And the songs! I think "Be Prepared" is a masterpiece! The original Broadway production has a song that starts with the beginning of Act II called "The King's Madness" which was taken out of the movie, and later, the Broadway production. It's kind of a number that explains the state of the realm now that Scar is king. And it goes through the hyenas, Zazu, and then Nala, but the leading thread is Scar throughout the five-minute piece. But it's such a good number, so we brought it back for that production and it was delightful. When you play Scar you realise that he is the lead character of that play, because when the production is done correctly, the lions are kids in the beginning and you switch the actors, you get adults in the second half. So in terms of lines and stage presence Scar has the most. And I mean, Jekyll and Hyde, you get to play two characters, which is always a blast. When you do ensemble work and you do many little characters, it's really great. But when you're actually a lead and you get to do two characters again, it's much better! For my type, right now, and for my age, I'm good for a lot of… not sidekicks, but not leads. I will be able to audition for leads in a couple of years. I can do leads now, but in lesser productions, which is still great…I still go for those roles and I book them because I work hard.
G: I actually have a bit of a technical question for you as I am someone who knows admittedly little about musical theatre: what is the difference between cabaret and musical theatre?
Damien: So a cabaret is generally the location—at first it was just the name of the location. But the experience is also completely different. It happens that they cross, and it becomes dinner theatre, which is something I'm going to be doing in Alaska, where we have a one hour piece where we act a lot and talk a lot. But a cabaret is usually a succession of songs that are generally under one theme, but sometimes there will be a storyline linking each song together. But most of the time it's a night of fun, it's wild, people drink, and you just get to sing whatever's in the theme.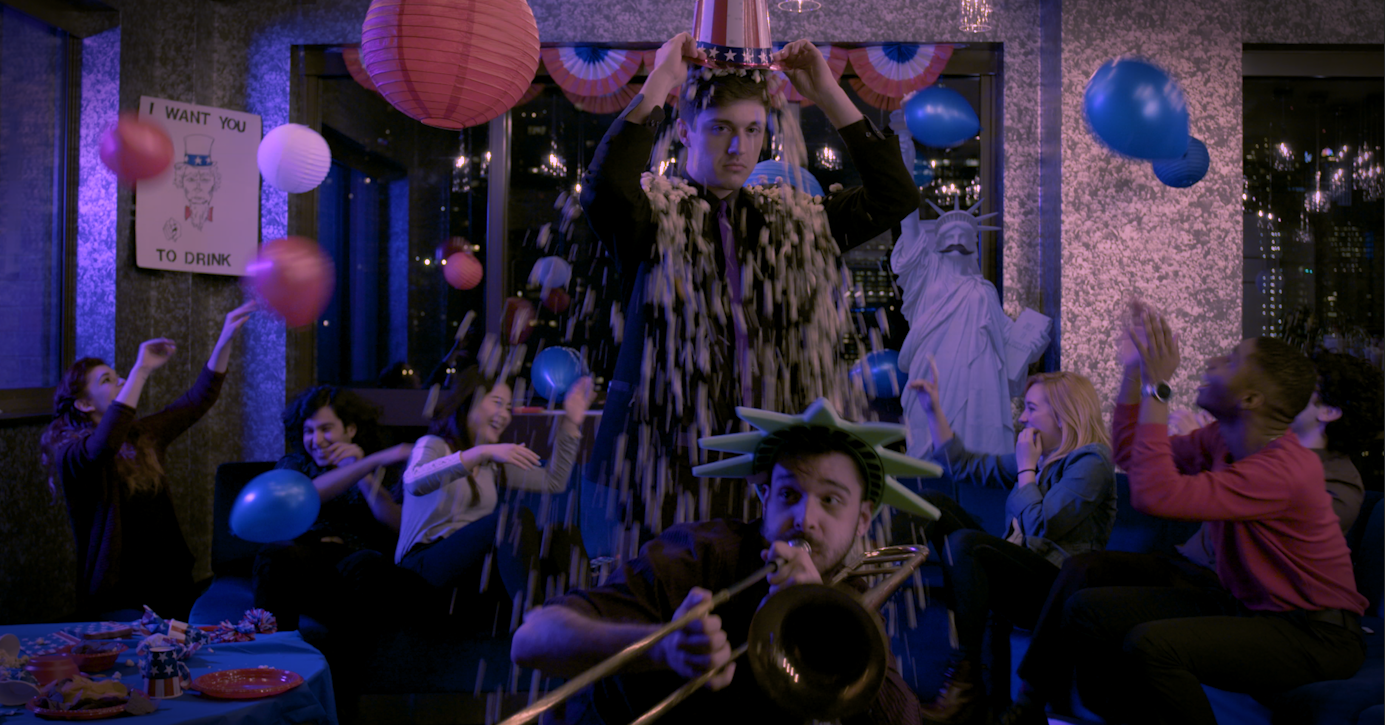 In some productions they put a restriction on what you can perform, or sometimes you just produce the songs from a show without all the scenes in between each number. But you still have to act. You're not just presenting music. You're presenting a character. So it's still in the realm of musical theatre, but when you say a musical theatre production, that means you're going to be sitting down for two hours watching a whole show.
G: That makes sense. I've been to some cabaret in Montréal and I think your definition makes sense, though now that I think of it most of the cabaret I've been to were burlesque shows.
Damien: Right, it all stems from vaudeville. Vaudeville, actually, really got started in Canada, a lot. Then it was adopted in the United States and it was the birth of early Broadway stars. They had tap numbers and everything, and afterwards musical theatre stars came from the vaudeville world but the burlesque cabaret and the musical theatre cabaret just kept going their own way, still existing hand-in-hand with musical theatre, and still to this day. For instance there is here in New York 54 Below which is a beautiful restaurant underneath a great Broadway theatre, and actual Broadway stars will go sing for a night while people are having dinner.
G: That sounds like fun.
Damien: It is a lot of fun, and it all stems from musical theatre. I work at this place called The Diamond Horseshow, which used to be this humongous vaudeville theatre until the late 60s, I believe. And then it closed, for about 45-50 years until recently a real estate group brought it back, invested a ton of money into it to make it look amazing, and they had a dinner theatre experience called "Queen of the Night" which was absolutely gorgeous. Now it's mostly private events, but they hire entertainers all the time.
G: The US is good for that kind of stuff.
Damien: New York is the best!!!
G: Every now and then they'll get an idea down there and they'll pour lots of money into it and it's great.
Damien: And you know, if you know how to represent yourself, you'll always be working. If you're willing to make sacrifices like going to Alaska for five months, if you're willing to take some gigs for almost no money at times, the opportunities are everywhere. That's the thing. You just have to not stay home.
G: Since we're on this topic of the United States, in your emails you mentioned your "exile" from Montréal. What do you mean?
Damien: I auditioned in New York because my director had faith in me. And I had no plan to go to the United States, but then again, I kept going back to school, and quitting. And I was very unhappy, except when I was working on a show. So, she knew, way better than I did. But I have friends from elementary school back home, when I left I had a girlfriend, but obviously, when you don't have a single clue when you're coming back it's a little difficult, and the distance got the best of us. But, I packed most of what I could, payed a hell of a lot extra for luggage, and just left without looking back. And now I'm here, and I don't ever want to go back. I want to visit my friends, and my family, but I want to live here. This is it. This is my life now. I've found something that makes me happy. Every day. Something for which I don't mind, you know, not sleeping. And, you know, I've stopped using drugs, which is wonderful. It's not possible with musical theatre—a lot of artists do all sorts of stuff but musical theatre is just so damned demanding and in New York City being present all the time, I just don't really have time for any of that. When they say "find your plan A" I got it. I got it, and I don't want my plan B. That's it. Yeah!
G: Are you worried about burning out?
Damien: No.
G: No?
Damien: No. I'm very lucky. I am very resilient. I can take a solid beating and show up the next day. So, no, I'm not worried.
G: Those are good qualities to have, especially in your field.
Damien: I can tune out how my body screams at me, how my mind is tired, and just see the end goal. So I'm not worried about burning out at all because the gigs I do get in performing, those moments when I'm in a voice room rehearsing, those moments are worth all of it. When you've found what you really want to do, then you have to be willing to suffer for it. That's what I think…my personal opinion!
G: Understood, well that's why this interview is happening! You know, I like your use of the words "hairy baritone" earlier, I find that really funny.
Damien: (laughs) Thank you!
G: So, this is a bit of a tangent, but are you thinking of building more of an online presence?
Damien: Absolutely, I actually have written most of the contents for a website and even have someone interested in making it. But when I graduated in May 2016 I was in dire financial need, and I was in panic mode instead of "career advancing" mode. I've started settling down and finally getting comfortable just this past December. I didn't want to go home, I was dealing with a shitty living situation and struggling, and then my first audition season was really just right now, and I booked a great gig in Alaska… Which is just super encouraging! I was planning on finishing all of this while I was gone and have a couple of professional videos and recordings when I come back to New York. I actually booked and did three films in the past two months so I'm building up my film reel. I'm also working on a Youtube channel, so…
G: What's the Youtube channel going to be about?
Damien: I have this idea to combine cooking and singing but trying not to make it cheesy. I want to make very short, a minute to a minute and a half recipes where you don't see me, it's all in first person, so you'll see my hands…
G: Like all those cooking videos… or GIFs… on Facebook and stuff? Yeah!
Damien: Yeah, but those are mostly shitty recipes. I mean, not all of them, of course.
G: (laughs) Oh I've seen some amazing ones!
Damien: There are some good ones, of course. But my idea doesn't exist yet, and I've spoken about it with a lot of music writers, and directors, and pianists at my school. So many people are into it that I've started writing material for it, and I just want to do it. I think it's something that could reach a lot of people. I'm targeting a poor college audience with easy delicious and nutritious recipes and it will have kind of a musical theatre sound to it? But have it range within the realm of musical theatre through all the genres of music… So most genres of music, because musical theatre has a little bit of everything.
G: Do you ever see yourself going back and singing in a rock band?
Damien: I would love to! Yeah, there are a few Broadway people who still do that, and I really admire that. I would love it. Once you're established and people know your name, all you have to do is say: "I want to sing in a rock band" and you'll have rock bands sending you tapes and you can pick the one you want. I don't have a rock band here, but it's not like that would be hard to find in New York City. I just haven't been in that frame of mind… Musical theatre is very rigorous; you have to follow a certain path unless you're working on an original piece or role, and then you have freedom, but even then, not so much. But your rock band doesn't have a script. Your rock band doesn't have a director.
G: That sounds pretty nice!
Damien: It is pretty nice! (laughs) I miss it and I would love to go back to it. But if I could choose where my success could come from, I would definitely pick acting. On stage or on film or on tv, hopefully in musical theatre. It's like Jared Leto, he did his schtick, then he did 30 Seconds to Mars, then he went back to acting and got an Oscar because he's wonderful… Something like that…
G: Right!
Damien: Very modest.
G: Very!
Damien: (laughs)
G: You mentioned earlier that you directed Moulin Rouge. Do you like directing?
Damien: If I like directing? Yeah. I love it. I really do.
G: I work as an editor and as a writer but I often feel I would really like to direct things!
Damien: I feel like if you're outspoken, and that you have a solid critical mind and can judge yourself, and have a good eye… I think when you direct a play, you have to put yourself in the audience, in the public, but as a very demanding old lady who has seen so much theatre over the years—that kind of public. I loved directing, and I would do it again, but it's a whole other path. Some people take that path from the get-go. But some actors also sometimes direct, and I would prefer to do the latter, which is to act as much as I can and then if I have opportunities to direct I will always take them. They also teach us to never direct your cast mates as an actor—it's a big no-no. And I've experienced it while shooting, from another actor, and it doesn't feel good. At all, especially when that actor is terrible. Oh oops! I'm sorry! (laughs) No shame. But directing is a lot of fun, using talented people to create what is in your mind. It's like playing with LEGOs but they're alive and they sing and dance and there is beautiful lighting and the jokes come together. I love that creative process, from day one until the end, seeing everything come together in front of an audience… I love the process from both sides, both as an actor and as a director.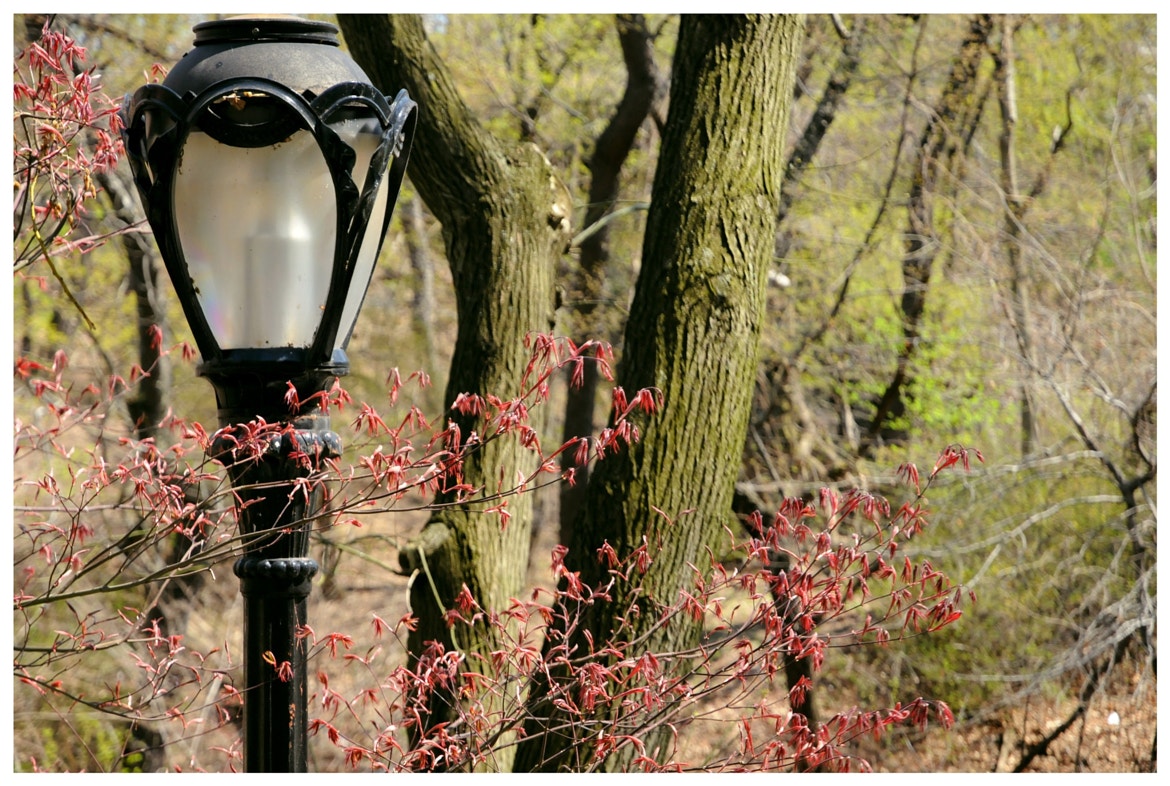 G: So where do you see yourself, after Alaska and over the next five years?
Damien: New York City. Although I've also set my eyes on cruise lines, and on regional theatre, because that's a good way to get Equity Points. All Broadway houses have this humongous powerful union called Equity, and it's harder for internationals to get into, because… I actually don't know why. It's another thing that I'll learn about as I deal with it… But you do need your Equity Card to work in a Broadway house, and also in Broadway productions that are regional. But some of them won't require an Equity Card but will give you Equity Points which in the end help get you your Equity Card. There's also an equivalence with Canadian Equity, so if you do have your Canadian Equity Card you can work on American Equity shows, so I was actually thinking of also auditioning for some Canadian shows in Vancouver and Toronto. I don't want to move there, but a lot of productions take video auditions. So in the next five years I still see myself working, still branching out. I do want to get that Youtube channel off the ground, and then when that picks up steam I have a cool idea for a food show. I want to pitch it to famous food people in the food world. So…working in entertainment, is what I want to say. It's big enough and broad enough to encapsulate what the last five years of my life have been, what the last two years have been really… there is really no way to tell. All I know is that I still want to be doing this, and I will.
G: We're the same age, and it's funny because I had a strange parcours through university as well, so I feel you. I feel you!
Damien: Yeah! It's kind of a bummer because now that I know that I'm in the right place, it's hard to tell yourself that the right place for you is entertainment and that it's the best you'll ever feel and that you will love your day job because it allows you to live in this wonderful city where you can actually perform as much as you want and be fulfilled. But there's nothing like it.
G: What else about New York do you like? Other than the fact that you get to work all the time?
Damien: I mean, New York is amazing! No matter which day you have off, you'll find some amazing things to do. It sounds so basic, really, but all the museums and all the parks are all just gorgeous… It's true. I do so much touristy stuff because there's just never enough of New York City. And Manhattan is so diverse and each neighbourhood is its own little universe and you can't be bored. You just have to get off your ass and you'll have a wonderful day. I mean, I thought since I was going south that it would be a little less cold… it's still cold as shit. You can't escape that, but it's great for biking. I bike a lot, along the Hudson, and the road goes all along the island so I get to bike without stopping and without having to think about anything. The food—the food! I don't indulge in eating out because of financial reasons, but on those nights where I make very good tips I can still have a wonderful, excellent meal for under ten bucks. If you're willing to travel a little, this city has its best version of every kind of food—I've found my best falafel, I've found my best dumplings, and I'm still searching for plenty of other things. For groceries, too, for very specific products, I can find anything. And Chinatown here is really cool. Montréal has a pretty decent Chinatown, but if you blow it up ten times, you get what's here. New York is a lot like Montréal, just stretched out more… and more fun. And I love Montréal. I miss the mountain. That's the only thing that we don't have in New York. But here, the art… if it's not theatre it's music, the blues and jazz scene here is just absolutely amazing. And going to the beach! I missed out on the beach while I was in school, but one day I just took the B train for about an hour, and then all of a sudden I was on the sea! It's the beach, on a good summer day, with just sand and waves! I love the beach, I have a very special relationship with the beach. So all these things put together, New York City is awesome.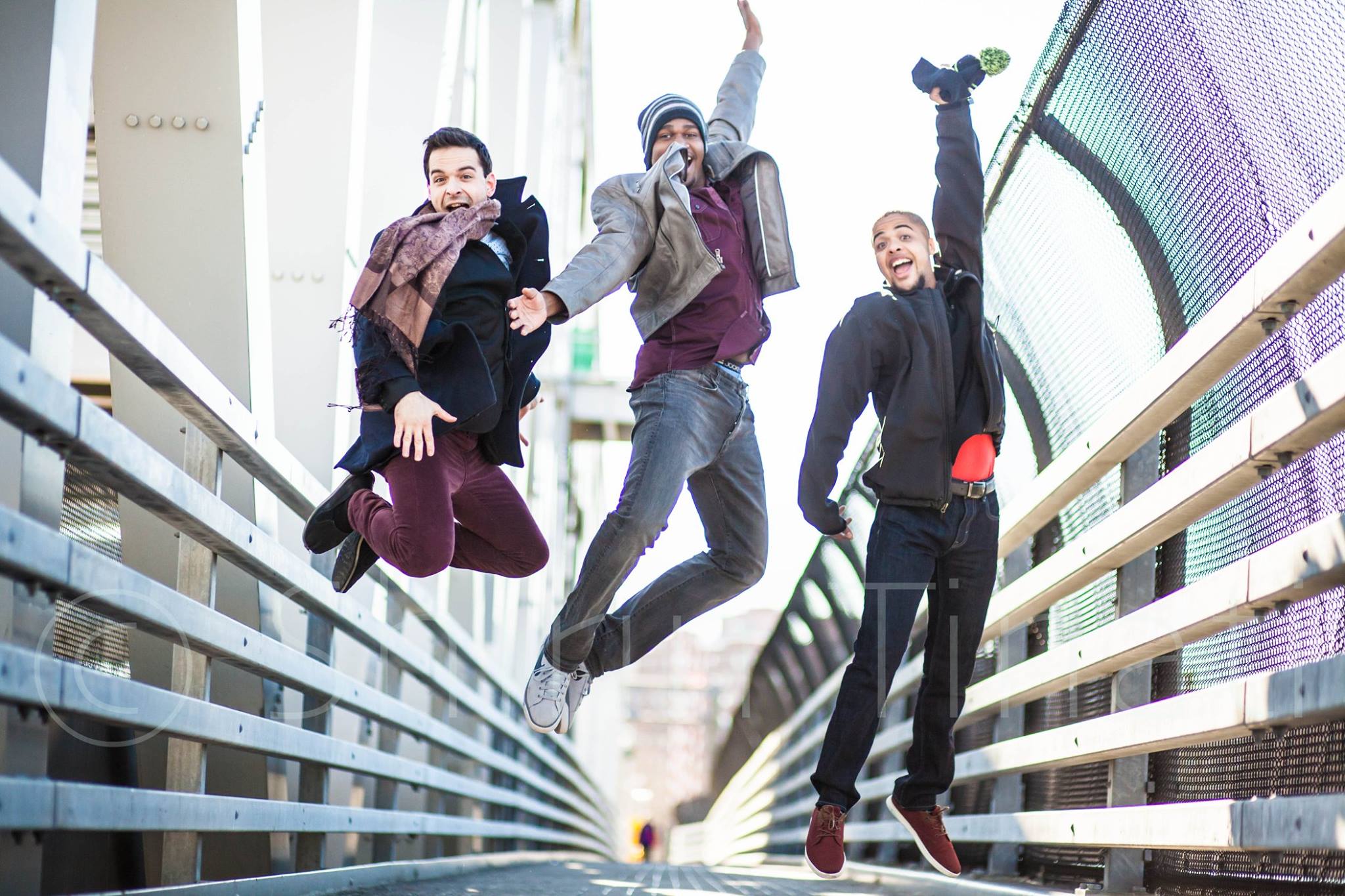 That concludes my interview with Damien. I want to extend a special thank you to Damien Alix-Souhabi for giving me some of his precious time this past week to speak with me and for graciously submitting to my erratic yet earnest interview style. I want to wish him especially a most fantastic trip to Alaska, and hope to see great things from him in the coming years.