Brief Assortment of Interesting Things — 12th of April 2019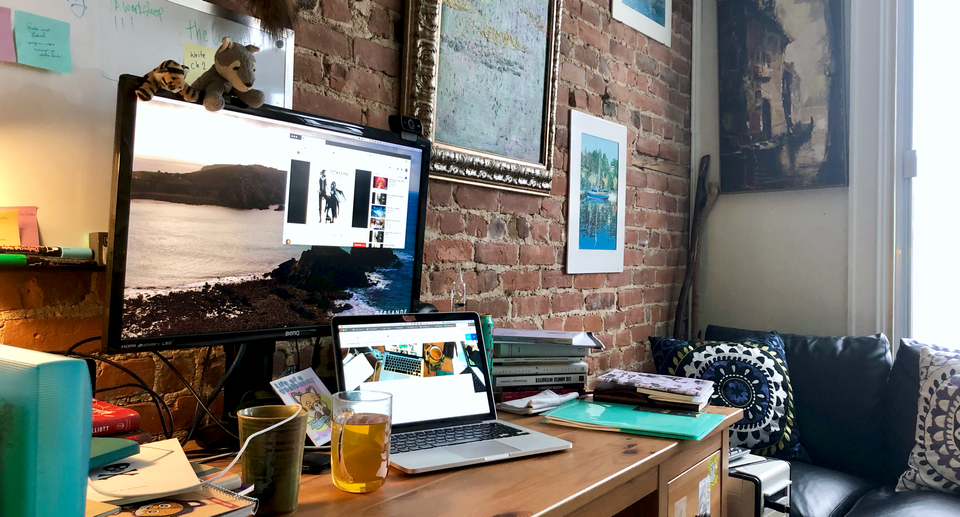 Winter is coming, it's here, it will never leave! Storm, a bad cough, I finally messed up and missed the round-up for the 29th of March because of being slightly overwhelmed, ice rain, another snow storm — another beautiful Montréal spring!
Time to get back on track with my 2019 blogging challenge: every two weeks throughout 2019, I publish a blog post containing a short list of notable and interesting stuff I come across. These can be in English or in French. Here's the round-up from between the 30th of March and the 12th of April, 2019.
→Lire ce billet de blogue en français.            
→Read previous round-ups.
Un Momento with Domenica Martinello on italocanadese, 31st of March 2019
Read this interview with Domenica Martinello, who has just published her first book of poetry, All Day I Dream of Sirens. I've added the book to my ever-growing wish-list, and I liked this part of the interview especially:
"I love mythology and ancient literature (like Homer, Virgil, and  Sappho) precisely because of how uncannily contemporary it seems, thousands of years later. We're all still telling ourselves stories and making metaphors and trying to figure out what it means, to love, to grieve, to experience loss, and to be alive in the world."
I completely agree. Reading the fragments of Sappho (I find the Anne Carson translation particularly magical) always gives me shivers, I always somehow feel so understood by this woman who lived in Lesbos 630 years B.C.
To come back to Domenica Martinello, I can't wait to read her first book since 1) I love poetry that returns in one way or another to antiquity, 2) my grandfather was Italian and I am italo-canadese too and 3) I love mermaids. All good reasons, I think!  
(Domenical Martinello will be in Montréal on the 3rd of June, at Casa del Popolo at 7 PM, 4873 Boul Saint-Laurent.)
In 'What You Have Heard Is True,' A Poet Bears Witness To Devastating Civil War, NPR Books, 5th of April 2019
I read The Angel of History back when I was still in high school in 2008, and years later I had the chance to hear Carolyn Forché read during her visit to Concordia University in 2014. In fact, even if I remember The Angel of History vividly, I had forgotten the author's name and was only at the reading by accident. Over the course of the evening, as I heard Carolyn Forché speak, it suddenly dawned on my who I was listening to.
I am really, really looking forward to reading her memoir, What You Have Heard Is True: A Memoir of Witness and Resistance that came out at the end of last March.
In the meantime, here is a review on NPR books, which affirms Forché's stance on the power of witness in all her works, including these memoirs.
There may never be a world without corrupt and murderous governments —  as the headlines of the last three years more than attest — and so, Forché argues, through the work of description and narration, we must bear witness, must never look away.
Ligne d'aide du genre by Sophie Labelle, 2019
« Ligne d'aide du genre, comment puis-je vous aider?
— Ouais, je pense que mon genre est brisé... »
"Gender Help Line, how can I help you?"
"Yeah, so, I think my gender is broken..."
Featuring Ciel (the nonbinary protagonist of Sophie Labelle's series Ciel) who in these small scenarios works at a call centre for a gender help line and responds to all sorts of questions, frustrations, and gender crises. Folks who work in call centres will probably find this comic pretty entertaining, as well as those who receive constant questions about gender.
« Alors t'est trans, mais ça t'intéresse pas de répondre à toutes mes questions intrusives sur le sujet?
– En grois, oui! »
"So, you're trans, but you're not interested in answering all my intrusive questions about it?"
"Pretty much, yeah!"
Same, Ciel. Same.
This short but wonderful little comic book is available in French on Sophie Labelle's website, serioustransvibes.com.
Le sexisme dans la langue française, interview with Suzanne Zaccour on Québec reveille!, November 2017
Listen to the interview on Soundcloud! In this interview, author Suzanne Zaccour talks about her two books, Grammaire non sexiste de la langue française ("A non sexist grammar of the French language") and her Dictionnaire critique du sexisme linguistique ("Critical Dictionary of Linguistic Sexism"), written in collaboration with Michaël Lessard — and many other collaborators in the case of Dictionnaire.
Throughout the interview, Suzanne talks about sexist characteristics of the French language, the movement to feminize French writing, and why feminizing French writing doesn't make the text more complex to read, but instead elevates and renders visible women otherwise erased by the French language.  
Laïcité et féminisme by Francine Pelletier in Le Devoir, 10th of April 2019
In her article, Francine easily calls out Québécois hypocrisy regarding feminism the Bill 21 from the CAQ. (My own translation of the quotation follows the French.)
Les arguments féministes en faveur du projet de loi — servis tant par  les hommes que par les femmes, le Québec n'ayant jamais été aussi  féministe que depuis que l'on discute du voile — invoquent immanquablement le fait que les femmes voilées ne bénéficient pas d'un véritable libre arbitre, ou alors font le jeu de l'obscurantisme islamiste. Comme jadis, on considère que ces femmes nous ramènent en arrière plutôt que vers l'avant.    
The feminist arguments to support the bill — brought up by men just as much as by women, as Québec has never been so feminist since the veil has become a discussion point — invoke without fail the fact that women who wear the veil cannot truly have free will, or otherwise are participating in a stealthy "islamization." Like before, these arguments rely on the idea that these women are holding us back rather than carrying us forward.
Nature Writing's Fascist Roots by Richard Smith on New Statesman, 3rd of April 2019
When the Christchurch shooter described himself as an "eco-fascist", he  invoked the age-old and complicated relationship between nature writing  and the far right.
White supremacists believe their lands are under attack. If the idea that nature writing and ecocriticism are closely related to fascism and the extreme right surprises you, I've got bad news: this genre of literature developed largely at the same time as colonialism, and in English at least has always been deeply connected with the expansion of empire. Idealizing and wanting to conserve nature (or animals) at the expense of people that live there/rely on them is an old pillar of empire and fascism.
A Brief History of... Myst by Ludodrome, 2016
I know, this video came out in 2016 — but it's really good, resuming the history of the Myst world and the development process of the game series. Riven is one of the first games that I remember playing on my dad's computer back in 1997 or 1998. I remember very well the notebooks we filled as we played, noting down the mysterious alphabets and symbols we later would use to solve the mysteries in this little world...
Anyways, now I really want to replay Myst and Riven, and maybe try Obduction too. Maybe I'll stream it on itch? We'll see.
...And that's all for this week! Don't hesitate to leave a comment here, on Twitter @gersandelf or by email. I also accept recommendations for what to feature next time if you have any suggestions. Thanks!
And now for the commercial... Blogs take up resources that cost money. I'm not being paid to write this blog, I don't have ads on here nor do I get endorsements from any products or content featured here such as books, podcasts, or games. If you would like to support my writing and the running of this advertisement-free blog
check out my Ko-Fi page
.